Carmichaels, PA (4/28/2017) - High Strung Racing/Fuel Off Road drivers Jami Luburgh and Dan Hunyady kicked off their 2017 GNCC season at the Camp Coker GNCC in Society Hill, SC with two new Yamaha YXZ1000s. The event was the second round of competition of the GNCC UTV classes.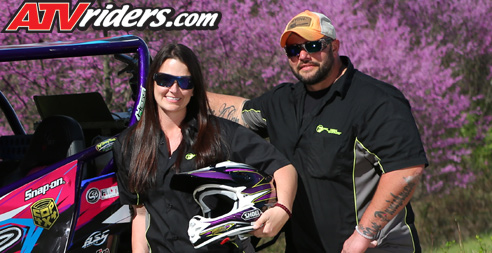 High Strung Racing's Jami Luburgh & Dan Hunyady made their 2017 GNCC Racing debut at Camp Coker in the Yamaha YXZ 1000 UTV
Luburgh finished third in the Women's class, while Hunyady's ride suffered a broken radiator while he was running in contention. The pair is part of a new team run out of Hunyady's HSR shop.
It marked Luburgh's first GNCC race in the Yamaha and she ran it hard. Taking the lead on the first lap, she and co-pilot Ben Francis were smoking the field. However, a timing plug came loose on their engine, slowing their charge. So dominant was their run that they still finished third in the Pro Women's class.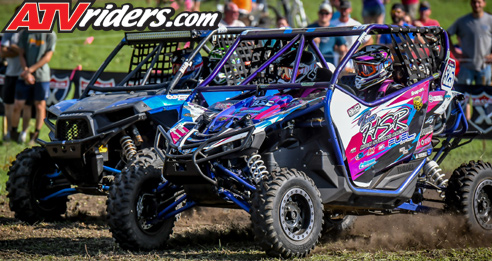 Fuel Off Road 's Jami Luburgh held the early lead before dropping back to a third place finish after fluke mechanical issue
"I was second off the line and took first in the second corner," said Luburgh. "We are one race behind because we didn't run Florida and tried to run a smart race. My co-pilot Ben Francis picked some gnarly lines. We were hammering down to the front, but a timing plug blew out of the back of the engine. It put us out of the race, but we still finished third in class."
Luburgh is also driving a brand new car that features a standard transmission, unlike the CVTs on most UTVs. Having competed in many UTV racing disciplines, Luburgh found the stick shift Yamaha a unique challenge. "I love the stick shift," said Luburgh. "It adds an extra bit of challenge to the race. It's not hard. It just makes it that much more fun and rewarding."
Though unhappy about his finish, Hunyday was excited about his team's first race. Though he was racing with several broken ribs, Hunyday was still in contention and he absolutely loves the Yamaha and Fuel Off Road Wheels.
High Strung Racing's Dan Hunyady is excited about the 2017 GNCC Racing season & he is looking forward to the John Penton race
"We're pretty excited about the platform," said Hunyady. "Even in stock form, the Yamaha YXZ1000 is halfway there. Through our sponsors we built a great machine and I realized this weekend just how fast Jami Luburgh is. The most important thing is that we're having fun."
The Fuel Wheels are a big part of their racing package. Along with making some of the coolest truck wheels out there, Fuel's UTV wheels are the toughest on the market.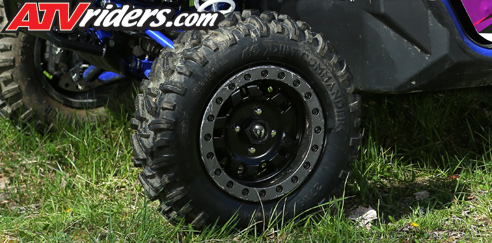 Jami Luburgh & Dan Hunyady are running Fuel Off-Road Wheels & GBC Tires
"We had so much good luck with Fuel wheels and their structural components, and they are really strong in supporting us," said Hunyady. "I break a lot of stuff, but I haven't been able to break a Fuel Wheel yet. We've really tested them to the limits and they are Hunyady approved."
Hunyady is happy to partner with Luburgh in the racing program, as well as their new tire distributorship: LH Inc. He was impressed by Luburgh's passion.
"We're both energetic and we share the same passions," said Hunyady. "I knew she was very passionate about racing and the industry. She is a very respectable driver and we make a great team. We started one race down and a little unprepared, but we're making it happen. We're definitely excited to have her be a part of High Strung Racing and HSR."
Luburgh, a native of Concord, OH, is looking forward to the next GNCC race. The John Penton GNCC is held at her home track.
"Mentally I got the first race out of the way and I had a lot of fun," said Luburgh. "Ben and I make an awesome team and we're looking forward to coming out swinging at Penton."
Luburgh and Hunyady will be ready for action as GNCC stages its third round of UTV competition May 27-28 at Sunday Creek Raceway in Millfield, OH.