Lynden, WA (4/21/2017) - Four Holz Racing Products built Polaris RZRs finished on the podium during the UTV World Challenge in Laughlin, NV. The event was round three of the Best in the Desert Series.
Holz Racing's RJ Anderson secured the UTV World Championship Short Course Pro Turbo Win
Known for its difficult 16-mile course, the race took its toll on the record field of over 300 entries. Not only did the Holz RZRs survive, they shined, as Mark Holz, Ryan Holz, Benjamin Bischoff and Joe Loomis all finished on the podium during the event's 160-mile desert race and the 48-mile short course race.
Mark Holz finished third in the turbo class desert race. Holz, who hadn't raced in a year, was competing in a brand new RZR he built as a test bed for his company.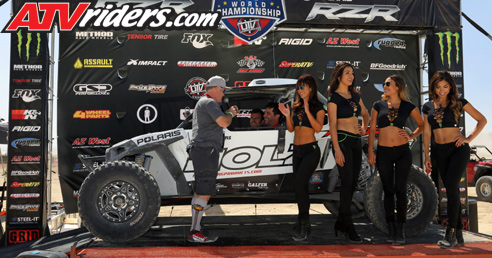 Holz Racing's Mark Holz Finished 3rd in the Desert Turbo UTV Class at the UTV World Championship
"This is a solid platform," said Holz. "We just built this car for ourselves to do some testing and development. Walker Evans shocks worked really well and we didn't have any flats. It's been year or so since I've desert raced, so I was a little rusty. It's amazing how many cars were out here. The sand wash just got worse and worse every lap. The progress of the sport, the amount of cars is just insane."
Holz's son Ryan finished second in the short course turbo race. Ryan Holz nearly won the event, finishing physically first, and second on adjusted time.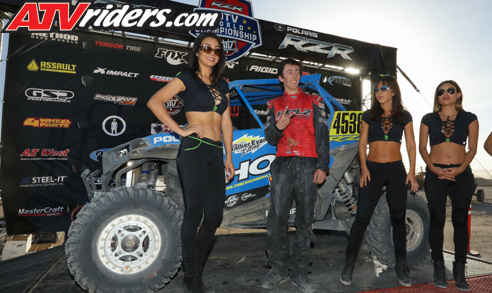 Holz Racing's Ryan Holz Finished 2nd in the Desert Turbo UTV Class at the UTV World Championship
"I'm super stoked on the day," said Holz. "The course was so brutal, but I put my head down and just made some passes. It was a super close finish, but it was great for the Holz Racing/Walker Evans team. The last half lap, it was missing really badly so I had to back it way down. It was super close on mileage and I coasted across the finish. Obviously I was so close to winning, but it's still great to finish second."
Bischoff and Loomis made the 32-hour trip to the event from British Columbia. They finished second and third, respectively in the production desert race.
"I cannot thank Mark Holz enough," said Bischoff. "The car is amazing. We have very few failures with the parts. The car ran phenomenal today. It was such a hectic race. We didn't even know where we were until they texted us. The track was just brutal and it was a fight to the end. We didn't have any problems."
Loomis was competing in just his second BITD race as a driver. He started last on the grid and came back to record the podium, his first in BITD competition.
"We never would have thought we'd finish this well," said Loomis. "We started dead last and this is my second actual race, driving. I bought a car from Mark Holz and I just went."
Polaris RZRs built by Holz Racing Products will be back in contention in the next BITD race, the Vegas to Reno August 16-19.
About Holz Racing
Incorporated in 1995, Holz Racing Products has since been designing, innovating and manufacturing the highest quality and best performing suspension and chassis components in the industry. Our commitment to quality and our no-compromise design philosophy is what keeps Holz at the leading edge our industry; Performance and function first.