Lynden, WA (8/25/2017) - Mark Holz teamed up with son Ryan, Sven Ellstrom, and Brian MacLean to finish second in the Vegas to Reno Best in the Desert Series race. The foursome raced a Holz-built Polaris RZR Turbo in the UTV Turbo class during the 500-plus-mile endurance race held in the desert between Las Vegas and Reno, NV.
Holz Racing's Sven Ellstrom & Mark Holz Finished second in the Best in the Desert Vegas to Reno
Known as America's longest off road race, the annual Vegas to Reno event is a highlight on the desert racing calendar. Its long distance, combined with the challenging terrain, made for a difficult race. Holz was unfazed. After starting 22nd, the team drove through the field to finish second, just over a minute behind the winner on adjusted time
Making it more difficult was dusty conditions. With little rain leading into the event, the silt beds quickly created airborne dust. Very little wind made visibility almost nil for most of the event.
"The race was really dusty," said Mark Holz. "We just steadily passed cars all day long. We had a few mechanical problems about the halfway point with some heating issues. We worked through those. Ryan and Sven Ellstrom got into the car at about mile 300 and they finished up in second."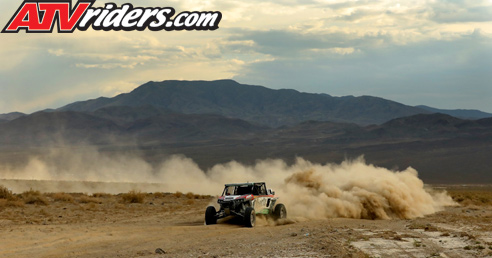 Oberto was the primary sponsor for the BITD Vegas to Reno
The Ellstrom team welcomed longtime action sports sponsor Oberto as its primary sponsor for the race. The familiar meat snack maker's famous red and green livery looked stunning on the Holz built RZR.
"The Ellstroms have had Oberto On their boat for years, so when they got into off-road racing, Oberto had an interest in it," said Holz. "They'll be on the car for the rest of the season and next year." This car was the same one in which Ellstrom finished third at the Mint 400. It is built to the same high standards as the customer cars that have made the Holz name synonymous with success in off road racing. "We've built three of these desert cars now and we're currently building one for another customer," said Holz, who has also built short course cars for RJ Anderson, and many others.
Earlier this year, Mark Holz scored a third-place finish in the UTV World Championship desert race and Ryan Holz finished second in the World Championship short course event.

Polaris RZRs built by Holz Racing Products will be back in contention in the next BITD race, The Polaris RZR Silver State 150, scheduled for September 22-23 in Caliente, NV.
About Holz Racing
Incorporated in 1995, Holz Racing Products has since been designing, innovating and manufacturing the highest quality and best performing suspension and chassis components in the industry. Our commitment to quality and our no-compromise design philosophy is what keeps Holz at the leading edge our industry; Performance and function first.