Lynden, WA (4/7/2017) - Shelby Anderson finished third in the WORCS SXS Pro Stock race at The Orleans Casino in Las Vegas and made history in the process. Driving a Holz Racing Polaris, Anderson became the second woman in as many races to finish on a WORCS Pro SxS Podium. Sierra Romo became the first woman to win a Pro podium, in the last race, also driving a Holz Polaris.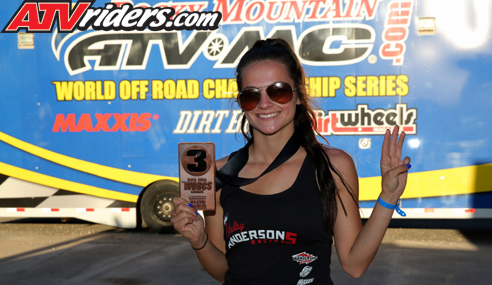 Holz Racing's Shelby Anderson became the second straight women to score a WORCS Pro SXS Stock Podium in back to back rounds to make WORCS Racing History
Anderson started on the second row on the tough track. She ran a strong pace during the event, let carnage take its toll, made some passes, and recorded her first podium of the season. Anderson is now third in Pro Stock points in her first full year of competition.
"I've had some pretty bad luck, so pulling off a third in my first year in Pro is probably more than I could have asked for," said Anderson. "Knowing that I caught all of these guys, I was happy to get this. It's pretty cool how Sierra and I are showing how we can run with these Pro drivers, especially considering this is our first year."
Holz Racing's Shelby Anderson finished 3rd in Pro SXS Stock & she rounded out the top five in the Pro SXS class
The race was staged in the arena and parking lots surrounding the Casino. Combining asphalt, dirt, logs, sand and even a big air jump, the track took out many competitors' cars, but Anderson's Polaris held up perfectly.
"The Holz stuff always holds up," said Anderson. "This was definitely one of the roughest tracks we've run. With all of the asphalt turns, the logs, my car hooked up great. The Holz car combined with Walker Evans Shocks and GBC Tires held up so well. I couldn't have asked for a stronger car."
Beau Baron finished second in the Pro SXS race. His Holz car was on rails in the event, handing him his first Pro podium of the season.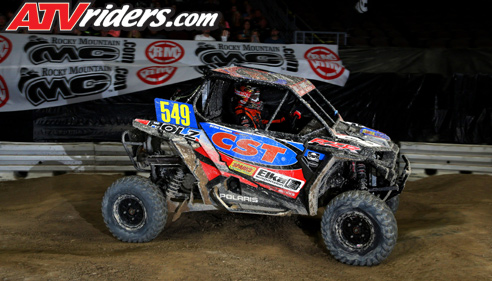 Holz Racing's Beau Baron scored his first WORCS Pro SXS Podium of the season in 2nd Place
"The chassis and the setup are awesome," said Baron. "Mark does a great job making these cars bulletproof. Polaris makes a good car to start with and Mark makes it even better."
Though unrelated mechanical issues slowed his charge in both Pro and Pro Stock, Cody Bradbury was the only SXS driver who consistently hit the big double jump. Bradbury stuck the landing every time.
"I ran some shorter shocks this weekend from Walker Evans and those, combined with the Holz stuff, made it so I was one of the only ones getting the double," said Bradbury. "A couple people tried it, but I was getting it. The Walker Evans shocks soaked it up just fine. I couldn't do this without Polaris. They make an awesome car."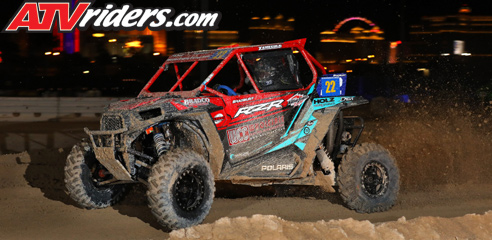 Holz Racing's Cody Bradbury is currently 2nd in the WORCS Pro SXS Points Championship
Holz Racing Products Polaris RZRs will again be the cars to beat as the WORCS series next heads to the dunes of Sand Hollow State Park in Hurricane, UT. That race is scheduled for April 21-23.
About Holz Racing
Incorporated in 1995, Holz Racing Products has since been designing, innovating and manufacturing the highest quality and best performing suspension and chassis components in the industry. Our commitment to quality and our no-compromise design philosophy is what keeps Holz at the leading edge our industry; Performance and function first.