Lynden, WA (5/26/2017) - Randy Romo won his first-ever WORCS Pro SXS race at Iron Mine Race Park in Cedar City, UT. Driving a Holz Racing-built Polaris RZR Turbo, won the race on adjusted time after starting on the second row. Beau Baron and Cody Bradbury drove their Holz Polaris RZRs to a one-two finish in the Pro Stock SXS class.
Holz Racing's Randy Romo secured his career first WORCS Pro SXS Win at Iron Mine Race Park
"All day the Polaris turbo worked awesome," said Romo. "We had no flats, no axle problems, no diff problems…it just ran great. This is my second podium. The first one was a third and this one is a first. Hopefully we can keep up this momentum."
Romo has been fast all season. He finished third in the second round of competition, the SXS World Finals in Nevada. He hopes to add another podium to his resume during the last three WORCS races.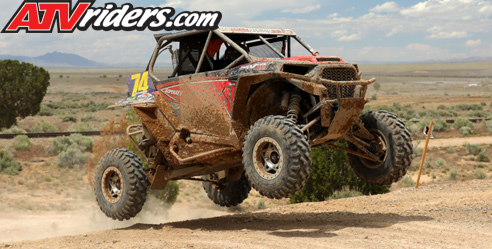 Holz Racing's Randy Romo
"This is huge for me," said Romo. "We've had a few bugs to work out with the turbos, but we worked hard and got them fixed."
In Pro Stock, Baron fought dusty conditions during the race, but ran a consistent pace. When the leader fell out with electrical issues, Baron sprung into action, taking the lead and the victory, his third this season. The win, combined with a 17th-place finish by the points leader, puts Baron just five points out of the championship lead with three races left this season.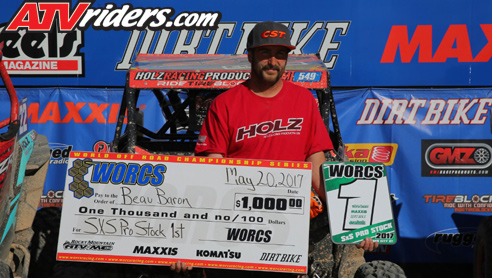 Holz Racing's Beau Baron scored the WORCS Pro Stock SXS Win at Iron Mine WORCS
"You have a few tough races, you shrug your shoulders and then, all of the sudden, you win a race and gets you back in your groove," said Baron. "I've been second all along in this points chase and I gained quite a few points. We'll take this with a grain of salt, keep pushing and hopefully we can come out with a championship at the end of the year."
Bradbury had to work for his best Pro Stock finish of the season. After starting last, Bradbury had to navigate his way through the field in the dust. He took second on the last lap and cruised to the finish from there. The second-place finish puts him third in points, just 14 behind Baron.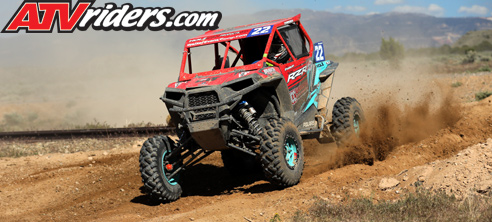 Holz Racing's Cody Bradbury finished 2nd in the Pro Stock SXS Class
"The dust wasn't super fun today," said Bradbury. "I just tried to keep my car together so I could charge toward the end. Beau had a good lead and I got Nic on the last lap. It's good to come back with a second. I love this place. You have to push, but you also have to be smart in the dust."
Holz Polaris RZRs will be back in action as WORCS next heads to Glen Helen Raceway in Devore, CA June 16-18.
About Holz Racing
Incorporated in 1995, Holz Racing Products has since been designing, innovating and manufacturing the highest quality and best performing suspension and chassis components in the industry. Our commitment to quality and our no-compromise design philosophy is what keeps Holz at the leading edge our industry; Performance and function first.