Lynden, WA (9/13/2017) - Holz Racing's Cody Bradbury won his third Pro SXS race of the season during the WORCS event at Glen Helen Raceway in Devore, CA. Driving a Holz-built Polaris RZR, Bradbury took the lead early in the event and led the rest of the way.
Fellow Holz Polaris driver Beau Baron extended his points lead in Pro Stock with a second-place finish, while Shelby Anderson scored another fourth-place finish. All were racing on a newly developed Glen Helen course.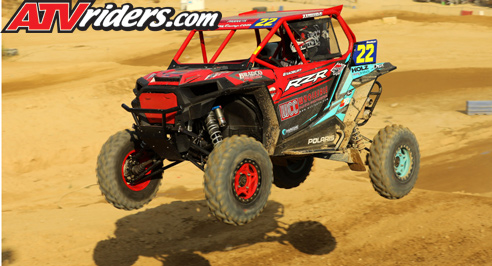 Holz Racing's Cody Bradbury claimed the Pro SXS Win at Glen Helen
The track comprised a mix of terrain, including the famous Glen Helen start, though it was run in reverse. Drivers went through the Talladega Turn and then went over the hill, the opposite of previous events here in June.
Bradbury got back his mojo after a hard crash took him out of the Pro Stock race. His Pro Stock Polaris, also built by Holz, protected him from injury allowing him to compete in Sunday's Pro race. He came out of a three-car battle with the lead and held it to the finish.
"This is great for me after yesterday's catastrophe," said Bradbury. "I misjudged the timing and that was on me. It's just one of those racing incidents. I just wanted to go out and have a solid finish. That's now three wins this year. The turbo suits me better than the stock car. I like having more horsepower."
In the Pro Stock race, Baron again ran a conservative race strategy to protect his points lead. He finished second and now owns a 22-point lead going into the season finale.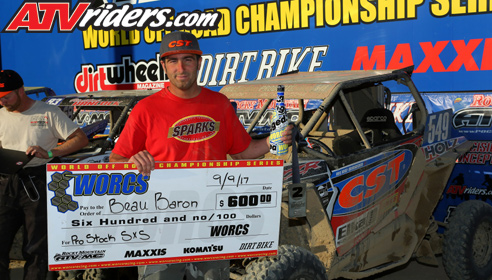 Holz Racing's Beau Baron scored a 2nd Place finish Pro Stock SXS, which extended his points lead to 22 points going into the season finale
"The Holz chassis has been solid all year," said Baron. "I had a good finish and I added a lot to my points lead. I have a decent lead going into the last round. I just need to play it smart and make sure my car is ready to race the whole race."
Shelby Anderson finished fourth in Pro Stock and continued to show strong driving acumen. Interestingly, she drove nearly one handed as she continues to heal from a shoulder injury.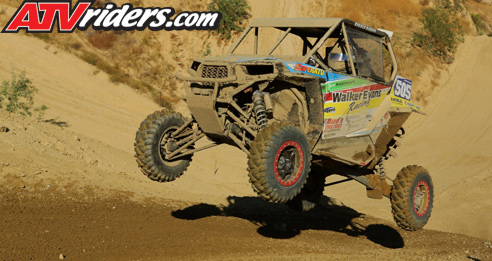 Holz Racing's Shelby Anderson just missed a spot on the podium with a 4th place finish in the Pro Stock SXS Class
"I'm really stoked with fourth," said Anderson. "I ran third off the line and I was running really hard with Matt and Beau. Then I heard a clanking noise so I backed off a little bit. So I held my pace, tried to be smooth and held on for points."
Holz Polaris RZRs will continue to show why they are the best of the best as the WORCS Series stages its season finale October 6-8 at Adelante Stadium.
About Holz Racing
Incorporated in 1995, Holz Racing Products has since been designing, innovating and manufacturing the highest quality and best performing suspension and chassis components in the industry. Our commitment to quality and our no-compromise design philosophy is what keeps Holz at the leading edge our industry; Performance and function first.