Hunter Miller Takes John Penton GNCC Pro UTV Win
Hunter Miller's John Penton GNCC Pro UTV Race Report
Greenville, TX (7/11/2017) – Hunter Miller scored his first-ever GNCC XC1 Pro UTV victory during the John Penton at Sunday Creek Raceway in Millville, OH. The Can-Am driver took the lead in the second turn of the event and then held off his brother Cody to secure the win and take the points lead.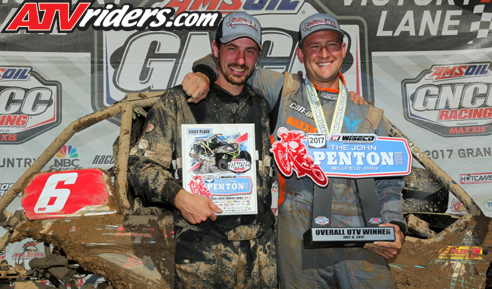 Can-Am's Hunter Miller & Kevin Cunningham claimed the John Penton GNCC Pro XC1 UTV Win
The typical John Penton course, with its mix of terrain, woods, motocross and grassy fields, was slick and rougher than year's past, but Miller's Can-Am Maverick was up the task. He was quick on the dead-engine start with his Elka Shocks, and Maxxis Tires on DWT Wheels hooking up perfectly. He took the lead just out of the gate and then held off several hard charges to secure the win.
"Here we are…finally," exclaimed Miller. "It was definitely a good day. I had never led the first lap before so that was a new experience. The track was a lot tighter and a lot slicker, but the Can-Am was on rails, as always. Cody and I had a battle and I couldn't be happier being up here in first and second. It was an absolute fight to the end."
Tire choice was key here. With slicker and rougher conditions on the tight course, Miller's Maxxis Tires allowed him to pull away each time he was challenged.
"The track held together pretty well and we were going back and forth this morning on what tire to run, but it was primo at the end of the race," said Miller. "My Maxxis Tires were the key to victory today. Cody was definitely letting me know he was there. But each time he challenged me, I was able to pull away."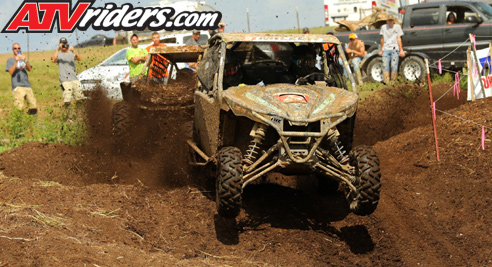 Can-Am's Hunter Miller held off his brother, Cody, to secure the win, which also boosted Hunter into the points lead
Miller now holds the points lead as GNCC heads into the summer break. The UTVs will return to the track in September, so Miller will head back to the shop, prepare his Can-Am Maverick and likely stay busy racing locally during the time off.
"I don't want to think about the points too much even though we're halfway through the season," said Miller. "I've been improving every round, so I just want to stay consistent and not get a DNF. It just takes one mistake and I'm out of it. I want to make sure I'm on the box every time."
Miller also credited his co-driver with his success this year. Kevin Cunningham, who is currently leading the points in GNCC's Pro 4X4 Class, has been running with Miller all season.
"Kevin Cunningham has been riding with me all year and he's been a huge part of my success," said Miller. "He is talking to me the whole time. Since he sees the track in the morning, he knows where to go and he has a lot of experience picking lines."
Miller will be back and ready to defend his points lead as the GNCC UTVs hit the track next September 23-24 during the Mountaineer Run in Masontown, WV.
Hunter Miller 2017 sponsors:
Can-Am, DWT, Maxxis, S3 Powersports, SSI Decals, Louis Powersports, HMF Exhaust, Tireballs, Gates, Evolution Motorsports, Factory UTV, Sparco, ELKA, Double E Racing, TiLube, EKS Brand Goggles, DP Brakes