Can-Am's Hunter Miller Third at Mountaineer Run GNCC
Hunter Miller's Mountaineer Run GNCC Pro UTV Race Report
Greenville, TX (9/28/2017) – Hunter Miller survived the roughest course yet this season to finish third in the Mountaineer Run GNCC at Marvin's Mountain Top in Masontown, WV. Driving his trusty Can-Am Maverick, he held the points lead going into the final two races of the season.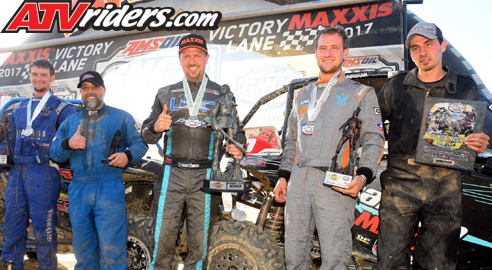 Can-Am's Hunter Miller maintains his points lead with a podium finish at the Mountaineer Run GNCC
Rough conditions and visibility problems were the story of the day on the track that featured a blend of wide-open fields, woods and gnarly rock sections. So tough were the conditions that many competitors' cars couldn't hold up.
"I had heard how gnarly it was, but I guess I didn't take it too seriously," said Miller. "Then I got there and it was an eye opener. I got a good start and got into second right away. The dust was really bad. I tried to go as fast as I could and keep up, but I hit a couple of trees really quickly, then hit some rocks, so I decided to back it down because I didn't want a DNF. Toward the end of the race, the track started coming in and I picked up my pace. I was pushing at the finish line, but it was just a little too late."
The dust made visibility next to nil in several spots on the track. Between the rocks and the broken down UTVs, it made it a challenge just to navigate around the carnage.
"I was dodging broken cars as much as I was trying to miss the rocks," said Miller. "I was doing my best to pick my way through. I finished and I was on the podium, but it was very difficult conditions."
Rough conditions made tires and suspension that much more important. Elka Suspension combined with DWT Wheels, and Maxxis Tires and Tire Balls helped keep his Can-Am together and on point.
"We switched to the regular Maxxis Big Horn because it's a little bit tougher than the Big Horn 2.0," said Miller. "At the end, those tires and wheels took a beating and didn't miss a beat. The Elka Suspension kept the thing planted in the rocks. They were key part in soaking up the bumps and keeping me from breaking other parts."
Then there was Miller's Can-Am Maverick. Miller has driven the proven machine for his entire UTV career. He knows it well and he knows it works.
"The Can-Am is amazing," said Miller. "We have so much time in it and I have it so dialed in. I know exactly what to expect out of it in every situation. I started with something that is proven and I know it works."
Miller is now just one point ahead of his brother Cody in the title chase. The sibling rivalry should make for an interesting final two rounds. Hunter Miller, however, couldn't think of a better scenario.
"I'd rather go head to head with him than anyone else," said Hunter Miller. "I know what to expect from him and I know he's going to go out there balls to the wall. If I want to beat him, I have to do the same thing. It's pretty awesome that it's coming down to the last two rounds and it's us two. If we both finish well at the next race, then Ironman is going to be pretty exciting."
Miller will be back and ready to defend his points lead and fight it out with his brother as the GNCC Series next heads to Powerline Park in St. Clairsville, OH. The race is scheduled for October 7-8th.
Hunter Miller 2017 sponsors:
Can-Am, DWT, Maxxis, S3 Powersports, SSI Decals, Louis Powersports, HMF Exhaust, Tireballs, Gates, Evolution Motorsports, Factory UTV, Sparco, ELKA, Double E Racing, TiLube, EKS Brand Goggles, DP Brakes