Can-Am's Hunter Miller Seventh at Powerline Park GNCC
Hunter Miller's Powerline Park GNCC Pro UTV Race Report
Greenville, TX (10/12/2017) – Hunter Miller ran another strong race in GNCC's UTV XC1 Pro Class, finishing seventh at Powerline Park in St. Clairsville, OH. Miller now sits second in points, just three behind his brother Cody.
A lengthened 6.1-mile course greeted Miller when he arrived at the facility. It featured a lot of high-speed sections, woods, as well as a hill at the end of the course that stymied Miller on the last three laps. Despite having difficulties, Miller rebounded to finish in the top ten and stay competitive in the points chase with just one race left in the season.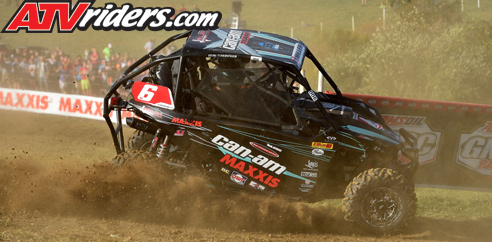 Can-Am's Hunter Miller got off to a rough start, but he quickly worked his way up into the 2nd spot physically before hitting a tree
"I knew this track would be a good opportunity for me to pad my points, so I made some moves early on," said Miller. "I made my way into second physically after a rough start, but then I had trouble with a hill and spun out and hit a tree. It took me a while to get backed out and I lost a bunch of time. The next lap, I took the hill a little easier and got stuck. I just tried to run a mistake-free race from there, but those two mishaps pushed me back to seventh. Luckily, Cody finished fourth, so I didn't take too much of a hit in points. Cody has three points on me."
Miller's Can-Am was again on point with his Elka suspension handling the varied terrain with ease and his Maxxis Tires hooking perfectly. Miller said the issues were with the driver, not the car. "The car was flawless; the mistakes were all on me," said Miller. "It was perfect and it was handling amazing."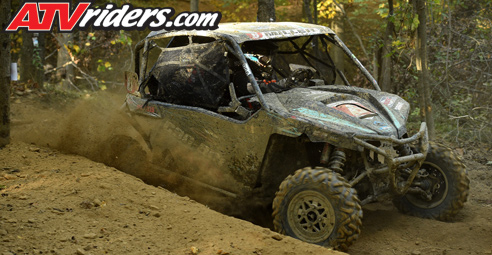 ELKA's Hunter Miller heads into the GNCC seaosn finale just 3 points out of the points lead behind his brother, Cody Miller
Miller is now just behind his brother in the title chase. The two will go into the next race with the GNCC Championship on the line. For Hunter Miller, it's like a dream come true.
"It's going to be close and we're both going for it," said Miller. "It's pretty crazy and I can't believe it. Three years ago we were just dying to come race GNCC and just hoped to be competitive. Here we are now going into the final round fighting for the championship. At the end of the race in a couple of weeks, I know we're going to give it all we have."
Miller will be battling for his first GNCC title as the series finishes out the 2017 season at Ironman Raceway in Crawfordsville, IN October 27-29.
Hunter Miller 2017 sponsors:
Can-Am, DWT, Maxxis, S3 Powersports, SSI Decals, Louis Powersports, HMF Exhaust, Tireballs, Gates, Evolution Motorsports, Factory UTV, Sparco, ELKA, Double E Racing, TiLube, EKS Brand Goggles, DP Brakes