Hunter Miller Makes TORC Pro UTV Racing Debut
TORC Pro Modified UTV • Rounds 1-2 • Chicagoland Slam • Report
Greenville, TX (5/17/2017) – Can-Am racer Hunter Miller brought out a brand-new Can-Am X3 and overcame overheating issues to score a top-10 finish during the TORC Off Road Championship doubleheader season opener. The event was held at the Route 66 Raceway in Joliet, IL.
After a last-minute decision to compete in the Pro Modified class at the event, Miller experienced cooling problems in the first race on Saturday. After making several changes, he ran as high as third before running into issues on Sunday, which dropped him back to ninth.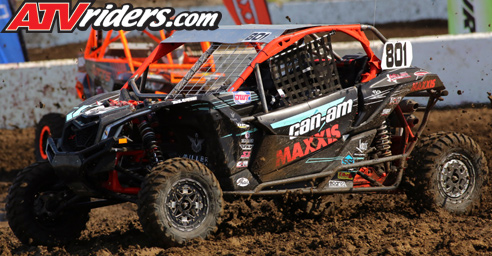 Can-Am's Hunter Miller made the last minute decision to take the long drive north from Texas to race the Can-Am Maverick X3 at the Chicagoland Slam TORC Off-Road Championship
"This a complete learning curve for me," said Miller. "We made band aid changes on the second day and we didn't have any overheating issues. Obviously the X3 is good and we're at a good starting point."
Miller brought his long list of race winning sponsors from his GNCC program. Double E and Elka had his suspension dialed in and he ran Maxxis Ceros tires during the weekend. In addition, JB Racing helped him get the car ready.
ELKA's Hunter Miller
"I have to give a big shout out to JB Racing," said Miller. "They helped me get my rollcage together because this was really a last-minute call to come here. Can-Am has always been with us and the X3 is a great machine. We typically run the Maxxis Bighorn 2.0 in GNCC, but over here we ran the Ceros, which is more suited to hard pack and short-course racing. We've been doing a lot of testing with Double E and Elka on the suspension and it was perfect this weekend."
Hunter Miller got to watch his brother Cody run the Pro Stock race. In addition, his mother, Barbara, got to celebrate Mother's Day on Sunday with her two sons. "It was a last-minute decision for her to come up here from Texas," said Hunter Miller. "Happy Mother's Day mom."
Miller had fun in his first TORC weekend. Now he's getting ready to return to GNCC in his trusty Can-Am Maverick. "The series is awesome," said Miller. "It's 180 degrees different from GNCC, and it's a lot of fun."
Miller will return to action as GNCC heads to Sunday Creek Raceway in Millfield, OH for the John Penton. That race is scheduled for May 27-28.
Hunter Miller 2017 sponsors:
Can-Am, DWT, Maxxis, S3 Powersports, SSI Decals, Louis Powersports, HMF Exhaust, Tireballs, Gates, Evolution Motorsports, Factory UTV, Sparco, ELKA, Double E Racing, TiLube, EKS Brand Goggles, DP Brakes