Las Vegas, NV (1/26/2017) - Jennifer Broughton kicked off her "home race" with a third-place finish overall in the Women's Class portion of the SXS World Finals in Primm, NV. The Las Vegas racer finished fourth and third, respectively, in the doubleheader to record the podium finish in the WORCS off road series SXS opener.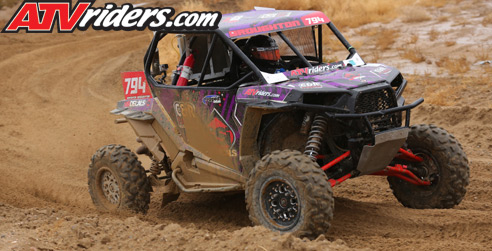 Jennifer Broughton takes home third-place finish overall in Women's Class
The unique racing format featured a short course race on Saturday with a traditional WORCS off road race on Sunday. The finishes were combined to net an overall result. Weather factored in significantly with rain washing out qualifying and practice on Friday, blue skies and warm temperatures on Saturday and winter weather with sleet and rain on Sunday.
Though it was Broughton's first race on a short course, she ran strong, finishing a runaway fourth. In Sunday's race, she came out of the start second and drove through the difficult conditions to finish third.
"This was a new experience and I held on for fourth, which isn't too bad," said Broughton. "I'm glad they ran the off road on the second day. It's more my style. My DWT Tires and Wheels hooked up great at the start. I had second for a little bit, but I slid out a few turns in and held on for third. I just quit using the brakes for a while and I made up a lot of time."
Jennifer Broughton's first short course race landed her a strong fourth place finish
Broughton's car features a new livery this season. The SSI Decals wrap gave her Polaris a distinctly feminine look, which stood out among the crowd of SXS in attendance.
"They made it look like a girl is driving the car, not a boy," said Broughton. "I really like it. It turned out nice. C&R Farms is on there and it has a really big ATVRiders.com logo on there."
Broughton was also pleased with trackside support from several vendors. All Terrain Communications helped her with communications issues and Tireblocks was there to make sure her DWT Tires hooked up properly. PEP kept her shocks running perfectly in the changing conditions.
"It's great to have vendors onsite to help with race weekend issues," said Broughton. "Dan at All Terrain Communications helped me out with the Rugged Radios. We had some problems early on in the weekend and he fixed it for us. Kenny with Tireblocks put the blocks in my tires. I had some seriously good traction throughout the race. Jamie and Wayne with PEP had my shocks crisp and perfect. It was like riding on a couch."
Primm is only a little over 30 miles from Las Vegas. The close distance allowed Broughton's family and friends to cheer her on: "It was nice to have everyone out there cheering me on."
Broughton is thinking big this season. Starting third in points puts her in perfect position to make a championship run.
"Hopefully we'll pull off some wins this season," said Broughton. "We're looking for a championship this year."
Broughton will head next to Honolulu Hills Raceway in Taft, CA February 17-19 for the next WORCS SXS racing weekend.
Jennifer Broughton 2017 Sponsors
C&R Farms, Polaris, Tireblocks, Rugged Radios, PEP, ATVRiders.com, Allan McCostlin, Jr & Paula Broughton