Las Vegas, NV (2/23/2017) - Jennifer Broughton takes her first Women's SXS win of the season on Saturday at the Honolulu Hills Raceway in Taft, CA. The Las Vegas racer avoided a first turn rollover, taking the lead and holding onto it the entire race using her brand new engine from Sparks Performance Products.
"Very exciting. On the start we had a little bit of a tip over, and I was able to cap on that and took off like a scared rabbit," Broughton describes her start.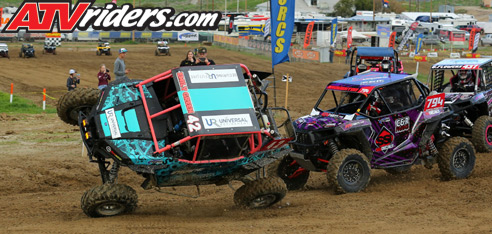 SSi Decal's Jennifer Broughton avoided a first turn roll-over to take the early lead at the Honolulu Hills WORCS
The heavy rain conditions resulted in a re-route on the track, causing the turns to be tighter this time around, but Broughton didn't let that slow her down.
"I remember last year it being a lot more open but this time it was super tight with the weather conditions there was only certain lines so it was a tight turn and she came in hot and I let up a little bit," said Broughton. "I took off and didn't look back until like the third lap left, and I turned around and she was right behind me again; scared me."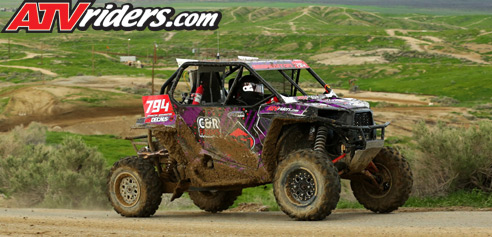 Sparks Racing's Jennifer Broughton takes home her first Women's SXS win of the 2017 WORCS Season at Honolulu Hills
The speedy competition in Primm caused Broughton's car to need a tune up for Honolulu Hills, so she brought the car to Sparks Performance Products of Bakersfield for some last-minute work, which paid off for her taking the win.
"We got some tuning done at Sparks Racing because I was out powered at Primm, so Allan McCostlin hooked me up with Curtis, and he got my car running super fast, and hooking up really, really well," exclaims Broughton. "It made a huge difference, so it was nice."
Broughton's PEP shocks really showed their compatibility with the new engine as the car scaled some major jumps on the raceway.
"Wayne and Jaime with PEP had the shocks hooking up really good I didn't feel like I bottomed out anywhere," explains Broughton, "Little bummed that we didn't get to hit the step up, because that's why I come down here originally but, all in all the car worked really, really well."
Due to the rainy weather conditions, Broughton was unable to test out her Sparks engine modifications before race day; leaving her with going into the unknown.
"After the weekend in Primm we brought it straight down to Sparks and it got worked on," says Broughton, "Then Friday, nobody practiced, so I didn't even get to drive it Friday. Saturday, race day, sitting on the line, that was the first time I drove the track and the car, so, it was good. Now I know where I need to work on and what needs to be done."
Broughton received a huge confidence booster with her win this weekend, and now she's really looking forward to Lake Havasu.
"It felt good. I'm pretty confident in my driving, but you gotta have a good car behind you, so I think it'll be interesting going in to Havasu and see if I can pull off another win."
Broughton will be heading to Lake Havasu City, AZ on March 17-19, for the next WORCS SXS racing weekend.
Jennifer Broughton 2017 Sponsors
C&R Farms, Polaris, Tireblocks, Rugged Radios, PEP, ATVRiders.com, Allan McCostlin, Jr & Paula Broughton