Las Vegas, NV (4/27/2017) - Maxxis / Sparks Racing's Jennifer Broughton continued to dominate the WORCS Pro Women SXS class, winning her fifth consecutive race at Sand Hollow State Park in St. George, UT. She now as 27-point lead in the championship chase in her Polaris RZR.
With the help of her Sparks Performance Products engine, Maxxis Tires and KMC Wheels, Broughton snagged the holeshot at the start and was immediately challenged by Claudia Romo. The pair battled back and forth until Broughton came away the lead on the final lap.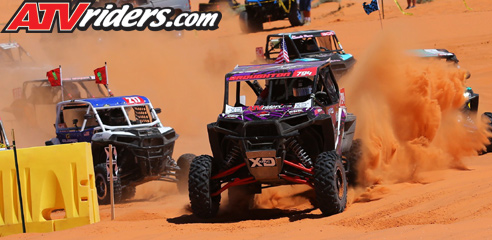 Sparks / Maxxis' Jennifer Broughton grabbed the WORCS Women's SXS Holeshot to take the early lead
"It wasn't easy this time," explained Broughton. "Claudia and I battled for the entire race, but we ran each other cleanly and it was a great battle. It's always fun to race people that aren't out there trying to break their car."
Despite the deep sand whoops, dunes, hard pack and even asphalt on the course, Broughton literally overpowered everyone in the class. Her Sparks engine was easily the most powerful in the field.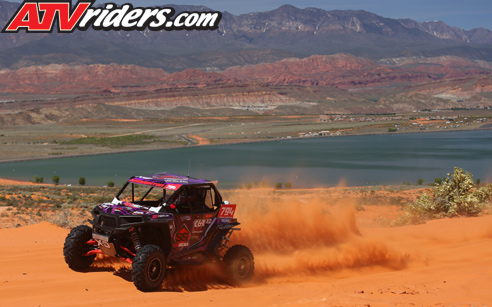 KMC Wheel's Jennifer Broughton claimed her 5th straight win to extend her points lead to 27 points over 2nd place in Championship Points
"My Sparks Performance Products motor definitely came through," said Broughton. "I was pulling hard everywhere on the uphill, the sand dunes and the asphalt. I have to give it up to Curtis."
Putting that Sparks power to the ground was a set of Maxxis Big Horn tires with Tireblocks on KMC Wheels. It was a winning combination.
"The Maxxis Tires set me up well on the line," said Broughton. "I had a good straight shot at the first corner. Kenny with Tireblocks hooked me up. The combination of Maxxis, Tireblocks and KMC Wheels was perfect everywhere."
Broughton will bring her championship run next to Iron Mine Racepark in Cedar City, UT. That race is scheduled for May 19-21.
Jennifer Broughton 2017 Sponsors
C&R Farms, Polaris, Tireblocks, Rugged Radios, PEP, Maxxis, Sparks, Racing, KMC Wheels, ATVRiders.com, Allan McCostlin, Jr,& Paula Broughton