Las Vegas, NV (10/12/2017) - Sparks / Maxxis' Jennifer Broughton finished off her dominant season in the WORCS SXS Womens class, winning the season finale and clinching the championship. The event was held at Adelanto Stadium in Adelanto, CA.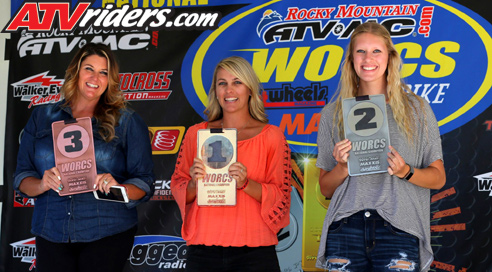 Sparks / Maxxis' Jennifer Broughton (center) clinched the WORCS Women's SXS Championship with the win at the season finale
Broughton snagged the holeshot and drove uncontested to her seventh victory of the season. She credited a new set of 29-inch Big Horn Maxxis Tires, as well as Sparks tuning for the victory.
"I really wanted this one and I did what I needed to do," said Broughton. "Maxxis gave me some new tires. The traction hooked up at the start, I took the holeshot and never looked back. It started in Taft. Once the Sparks engine came online it was all going. Maxxis came on board and then I got KMC Wheels at Havasu. It came together very nicely."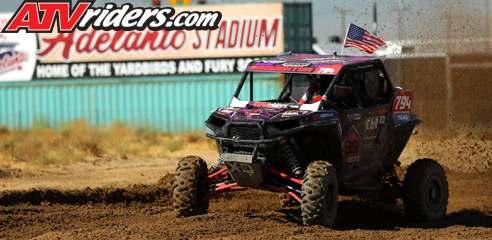 Sparks / Maxxis' Jennifer Broughton
Broughton started off the season slowly and she knew she needed more power. She sent off her engine to Sparks and literally took off from there, winning five straight races beginning in round two.
"It started in Primm and I just hit the rev limiter and the car was too slow," said Broughton. "Then we sent the motor off to Sparks and that's when things started turning around. The ladies are awesome people and are so much fun to race with. It's been a really good season."
She also thanked her parents for their support. The WORCS Series has always been about family and the Broughton family is all about racing.
"Without my parents, JR and Paula, this never would have happened," said Broughton. "It's surreal right now. Tomorrow it will sink in. I've only been racing for three years. The first two years, I was third. I've gone from two thirds to a first. I'm coming back next year."
Broughton will return to defend her championship next season. The WORCS Series kicks off its 2018 racing calendar February 2-4 at The Orleans in Las Vegas.
Jennifer Broughton 2017 Sponsors
Polaris, Tireblocks, Rugged Radios, PEP, Maxxis, Sparks, Racing, KMC Wheels, ATVRiders.com, Allan McCostlin, Jr,& Paula Broughton