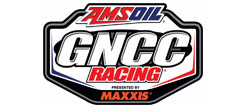 JMR's Jarrod McClure Podiums at GNCC Opener
JMR's GNCC Round 1 & 2 Pro ATV Race Report
Kaska, PA (3/16/2017) - ATVriders.com/ Jarrod McClure Racing's (JMR) rider Jarrod McClure raced his way to a second place finish in the XC1 Pro ATV class at the Grand National Cross Country (GNCC) opener in Union, South Carolina. A week later McClure just missed the overall podium by ten seconds at Round 2 of the GNCC series at the Wild Boar track in Palatka, Florida. McClure holds down third in points after the back-to-back racing action to get the season rolling. JMR teammate Randy Hamilton made the move to the XC1 Pro class in 2017 and had a tough time adjusting to the pace at the first two rounds securing 14th in the class at both events.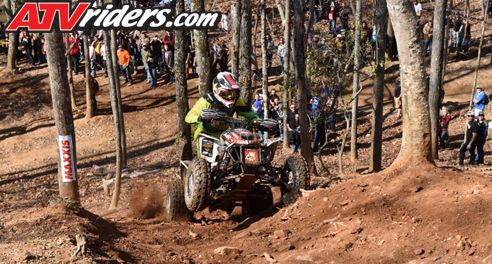 JMR Racing / ATVriders.com Jarrod McClure raced his way to a second place finish in the XC1 Pro ATV class at Big Buck GNCC Opener
The opening round of GNCC racing would be somewhat different this year heading to South Carolina to get the season on its way. It would not be unfamiliar however as they would head the Big Buck facility, in Union South Carolina. The track conditions were somewhat dry, which is normal for this track, but slightly cooler than normal temperatures made for ideal race conditions.
DWT's Jarrod McClure started the Big Buck GNCC in ninth position and made quick work on the first lap to move into second place, but Walker Fowler had already pulled a 38 second lead. Jarrod was able to gain some time on Fowler during the race, but not enough to get him in sight.
"I really needed a better start today, it was just super dusty in a few sections, and Folwer was able to sprint away from us with the clear track. I charged hard and put some time on him but with a lead like that he would have had to make some type of mistake for me to run him down ", said McClure.
Teixeira-Tech's McClure maintained his pace for the entire two hour race and crossed the finish 42 seconds behind Fowler. This marks the best opening round finish for McClure ever and has him heading to Florida second in the points.
"I felt awesome out there today and I can really tell hard work over the offseason paid off. I am not playing catch-up this year and I am here to win races, I would have loved to get the win but I am ok with second. This Elka/ Teixeira Tech Honda is working amazing and with the Baldwin motor we have a dangerous program this year", said McClure.
JMR's Randy Hamilton's pro class debut was a big step for the former XC2 Pro am racer, he has seen the pace now and is hoping to learn some tricks from the top guys to earn some top ten finishes this season.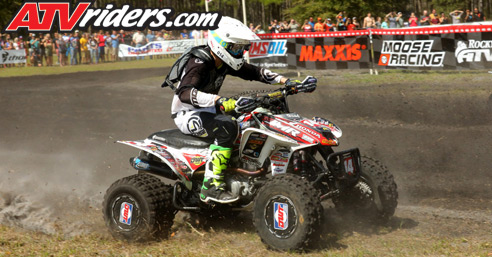 JMR's Randy Hamilton's has made the move to the Pro XC1 class for the 2017 GNCC Racing Season
"The pace is super fast right from the start, so I need to learn how to get going right away. I definitely have some work to do but I believe getting to race with faster riders will teach me a faster pace," said Hamilton.
The JMR team only had a short week off then headed to Florida for Round two of the GNCC series in Palatka Florida.
The Wild Boar GNCC was held at the Hog Waller mud bog just west of Palatka, Florida. This is the third running of the Wild Boar, so racer knew what they were in for, huge dusty sand whoops, palmetto roots, and temperatures in the mid 80's.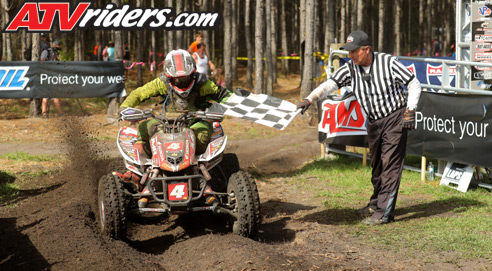 JMR Racing / ATVriders.com Jarrod McClure just missed the podium in fourth place at the Wild Boar GNCC
ATVriders.com McClure had another less then favorable start after catching tires with Brycen Neal leaving the line. Jarrod entered the woods in ninth position and knew he had to get to the front as quick as possible.
" My Baldwin motor fired immediately but I connected with Neal a little bit and that slowed me down. I learned Fowler had the hole shot again and knew he would sprint away with a big lead. Starts seem to be a deciding factor this year and we need to focus on them and be there with Walker in the beginning," said McClure.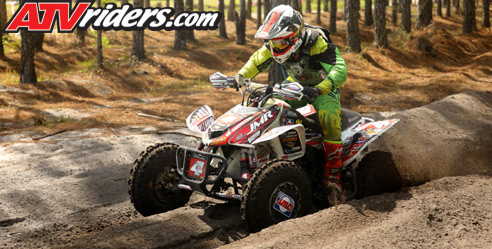 DWT's Jarrod McClure entered the woods in ninth position and knew he had to get to the front as quick as possible, resulting in a fourth place finish
McClure hooked up with Brycen Neal much of the race and the two worked there way through the pack. On the last lap Jarrod found himself in a three-way battle for second with only three miles to go between Neal, Adam Mcgill and himself. Jarrod had moved into third, but lappers getting in the mix allowed Mcgill to get by him and leave Jarrod to earn fourth for the day.
"Not the finish we wanted by any means. If we can't win we at least want to be on the podium. The sand was demanding, but overall I felt good all day. Looking at the bigger picture though we are third in points leaving here so that is good, we will take it to the dirt next round and aim to end Fowlers winning streak," said McClure.
JMR teammate Randy Hamilton had a rough day in his second XC1 Pro class race after be buried his JMR Honda in one of the Hog Waller mud holes. He was forced to pit and pump the water from his machine. He was able to get going again but was a lap down and earned 14th in the class for the day.
After the first two rounds of GNCC racing Jarrod McClure is sitting third in the XC1 points standings. JMR teammate Randy Hamilton is sitting 16th in the XC1 class. The team will be ready to go in two weeks at the Cannonball GNCC in Sparta, GA.
JMR Racing Team Sponsors
DWT, DWT Tires, JMR, Elka Suspension, Teixeira-Tech, HMF, IQ defense, KG power sports, Bowers Motorcycle, ATVriders.com Powermadd, Sunstar, Moose Racing, Quad Tech, Spider Graphics, Bell Helmets, Precision, DP Brakes, Moto Pro Training, Gorilla Offroad Company, Matto Cycle, Py Racing, Baldwin Motorsports, Bel Ray, Impact Solutions, Wiseco Pistons, Top the Podium, Dirtworks Motorsports, Hot Rods, Pivot Works, Works Connection, Rockwell Watches, IMS, Motion Pro