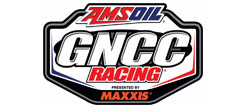 JMR's Jarrod McClure Podiums at Unadilla GNCC
JMR's GNCC Round 10 Pro ATV Race Report
Kaska, PA (9/20/2017) - JMR/Atvriders.com Jarrod McClure found his way back to the podium at round ten of the Grand National Cross Country series at the Unadilla motorsports facility in New Berlin NY this past weekend. McClure came from the back of the 12-rider pack to earn second overall for the day. . JMR's other XC1 Pro rider Randy Hamilton just missed the top ten finishing eleventh.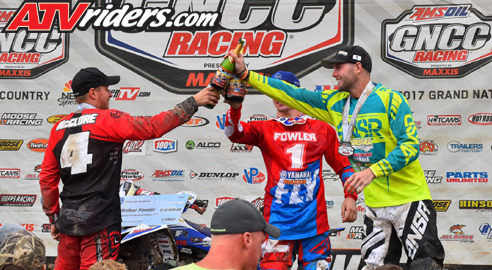 JMR Racing / ATVriders.com #4 Jarrod McClure celebrated a 2nd Overall finish at the Unadilla GNCC
The Unadilla Motocross track is always the first stop after the GNCC series summer break. The facility not only offers the pro level motocross track, but also a mix of great offroad, providing the riders with steep hill climbs, mud holes, and challenging trails. Some rain earlier in the week had the track near perfect as racers headed to the start to tackle the ten-mile course.
DWT's McClure started the day near the back of the thirteen-rider pack, heading into the New York words around eight position. Jarrod charged hard on the first lap and quickly moved into fourth as they rounded scoring on the first lap.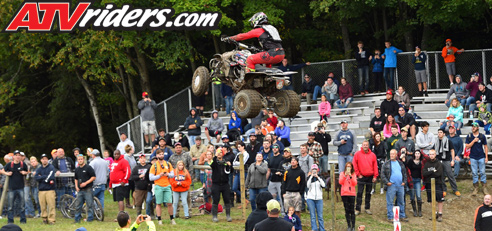 #4 Jarrod McClure launches over the famous Shot Shot at Unadilla
"I made a mistake on the start and it cost me, I was stuck towards the back of the pack, but I knew I had to be aggressive and get to the front because Walker tends to run away from us here", said McClure.
McClure was able to move into second place midway into the race where he and Chris Borich hooked up and began to try and reel in Walker Fowler. The duo of riders was able to chip away at Fowlers lead but never could get him in sight and at the end of the race McClure found himself in second overall.
"It was really an awesome race out there Chris and I had a great time pushing to catch Fowler, it is a shame he had problems today I think we could have ran Walker down at the pace we were going. Overall though feels great to come back to GNCC and get on the box, my setup was really dialed in for this track", said McClure.
JMR's XC1 Pro racer Randy Hamilton started his day around eleventh position, where he rode the majority of the race and ended up finishing in the class for the day.
After ten rounds of racing Jarrod McClure is sitting fifth overall in the Championship points standing. JMR teammate Randy Hamilton is in eighteenth overall. The team is looking forward to the Mountaineer run GNCC in Masontown, WV next weekend.
JMR Racing Team Sponsors
DWT, DWT Tires, JMR, Elka Suspension, Teixeira-Tech, HMF, IQ defense, KG power sports, Bowers Motorcycle, ATVriders.com Powermadd, Sunstar, Moose Racing, Quad Tech, Spider Graphics, Bell Helmets, Precision, DP Brakes, Moto Pro Training, Gorilla Offroad Company, Matto Cycle, Py Racing, Baldwin Motorsports, Bel Ray, Impact Solutions, Wiseco Pistons, Top the Podium, Dirtworks Motorsports, Hot Rods, Pivot Works, Works Connection, Rockwell Watches, IMS, Motion Pro