Madison, IN (9/28/2017) - Yokley Racing/Polaris RZR Factory Racing driver John Barnes scored a fourth-place finish, handing Polaris' S1000 its best finish this year in XC1 pro UTV, during the GNCC Mountaineer Run at Marvin's Mountain Top in Masontown, WV.
Barnes, fresh off finishing second in an IXCR race last weekend, charged out of the start hard. Heading into a high-speed turn, he hit a rut. Showing great driving skill, he drove out of the bobble, recovered, fought through the dust and finished fourth, marking his best effort thus far this season. He was just one minute behind the leader at the finish.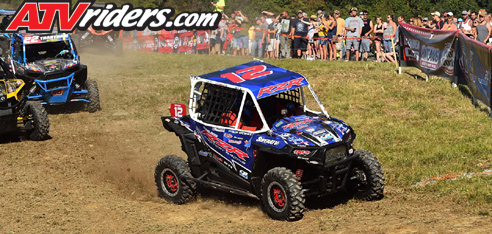 STI's John Barnes grabbed the Pro Holeshot in his Polaris RZR S 1000
"If it wasn't for the dust, we would have definitely had a shot at the win," said Barnes. "We had the lead in the third turn, but we caught a rut, fell back and fought dust from there. We were on Trantham on the first lap, but I couldn't see anything because of the dust and decided to play it safe. When I came up on someone, I tried to get by them immediately because of the dust."
The rock sections were especially difficult this round. With more and more boulders becoming exposed as the race went on, Barnes had to preserve his car to the finish.
Polaris RZR Factory Racing's John Barnes finished a sesason best 4th Place at the Mountaineer Run GNCC
"The rocks wore out the car pretty well," said Barnes. "I started losing the brakes when the wheel bearings got a lot of play in them. I knew by the end of the last lap, the wheel bearings would be close to breaking. So I tried to be smoother in the rocks and go fast when I could. We were really close to losing a wheel at the end."
Barnes' fourth-place finish allowed him to crack the top 10 in points going into the next race. Always a competitor, Barnes' finish was a feat many don't accomplish in the tough sport of cross country racing.
"A top-five finish in a GNCC is a very good achievement," said Barnes. "A lot of people never get there. It was a good weekend for me our Polaris team."
The changes he made to the car during the summer break definitely paid off. Along with a lot of testing, Barnes addressed nearly every component on the car--including shocks, new heads from Millennium Technologies, and a new rear end--to make it more competitive.
"We tested a lot and I think we're getting faster each time," said Barnes. "The car handles really well. I can push the car into the turns a lot harder than I thought I could, so testing helped me get used the car. I just had to get to that point to riding perfectly on the edge."
As the series heads to Ohio, Barnes will tear down and completely prepare the car for Powerline Park. While he is fast in the woods, Barnes wants to improve his driving in the high-speed sections.
"We're going to do some shock changes, we'll do all new wheel bearings, new brakes, and change anything that's showing wear," said Barnes. "My goal is to work more on the high-speed stuff. We're fast in the woods, but we want to get faster in the open."
Barnes will be looking for his first GNCC podium of the season as the series heads to Powerline Park in St. Clairsville, OH October 7-8.
A big thanks goes out to the sponsors for the 2017 season:
Polaris RZR Factory Racing, Yokley Racing, STI Tire & Wheel/Roctane HD tires, America's Motorsports, Elka Suspension, Super ATV, CP Carrillo, Millennium Technologies, Hot Cams, IMS, Ballistic Battery, Dynojet, MTNTK Performance, OMF, Trinity Racing Exhaust, Team RZR, RZR Extreme, Shock Therapy, Alba Racing, Alpinestars, Maxwell Industries, Monster Army, VP Racing Fuels, Hess Motorsports, Dragon Alliance, One Stop Design and Machine, and Slick Products.