San Clemente, CA (4/21/2017) – Super ATV's Katie Vernola overcame some hurdles to finish strong in both the desert and short course races at the Best in the Desert UTV World Championship held in Laughlin, NV.
With over 300 UTV entries, a record for a BITD race, Vernola was ready to roll when the desert race got underway. The 160-mile race was hectic in the beginning, and Vernola overcame a series of hurdles to record a finish.
Fuel Off Road's Katie Vernola started the day off at the UTV World Championship racing the Desert Race
"I got a great start and tried to carry my momentum," said Vernola. "I'm just thankful I finished. I had a rough day, but it could always be much worse. We'll get all of the bugs worked out and move on to the next race."
Vernola switched to her 2015 center seater RZR for the short course race. The three-lap event was run on the same 16-mile course as the desert race in order to accommodate the huge turnout. Vernola's confidence grew during the race and she was happy to celebrate another finish.
"I knew the course really well and it was a huge benefit," said Vernola. "A car would slow down in front of me and I was able to confidently make the turn. The race was extremely dusty, but I just pushed the RZR as hard as I could. I made it to the finish line without any problems. Addict Racing did my clutching and got me off the line in fourth place. It was a challenging day doing two races in one day, but I am happy that I finished both races."
Vernola will take advantage of a long break in desert racing to work on her car. With the next BITD race in August, her crew will have plenty of time to shake down her 2017 long wheelbase RZR.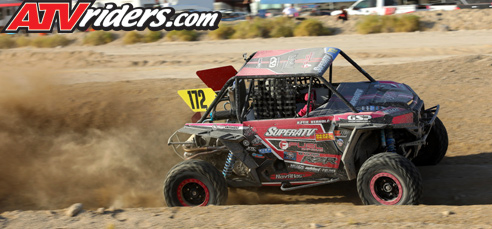 Got Sand Performance's Katie Vernola racing her center seat Polairs RZR during the Short Course
"Now is my chance to take the car apart to see any bugs we have," said Vernola. "Vegas to Reno is one of the biggest races of the year, and we have a lot of work to do, but I know my RZR will be dialed and ready for battle."
In the meantime, Vernola will return to the WORCS series next weekend. That race is being held at Sand Hollow State Park in Utah April 21-23.
2017 Katie Vernola Racing Sponsors:
Polaris Industries, Super ATV, Fuel Off Road, Got Sand Performance, KING, Addict Racing, BAJA Designs, K&N, P.C.I, Fuel Safe, Miller Sign Corp, Cryo Heat, XTC Power Products, K1 RaceGear, Maverick Powder Coat