San Clemente, CA (4/7/2017) – Super ATV/King Shocks/Fuel Offroad's Katie Vernola competed in the unique Las Vegas WORCS SXS Pro event held at The Orleans Casino. Taking on the tough short course in the parking lots and the arena, Vernola ran strong in the tough terrain that included hard-packed dirt and pavement, as well as a log section, a sand pit and a huge double jump.
Interestingly, Vernola had engine trouble prior to the event and her team got it ready just in time for the start of the 45-minute race. With a plan to put together a just a finish, Vernola ran strong until brake problems slowed her charge halfway through the event.
Super ATV/King Shocks/ Fuel Offroad's Katie Vernola Finishes 11th at The Orleans Casino WORCS
"It was bad timing, but I went into it to do my best and finish this race," said Vernola. "Halfway through the race, I lost my brakes and it was a pretty scary moment coming into the arena. So I backed my speed down and was careful. I had a blast and I finished the race."
Despite her 11th-place finish, Vernola sits eighth in points and is just nine points out of the top five. A veteran racer, Vernola knows that bad races happen.
"This is why it's so important for me to finish every race," said Vernola. "Some people are going to have bad races. I've been there."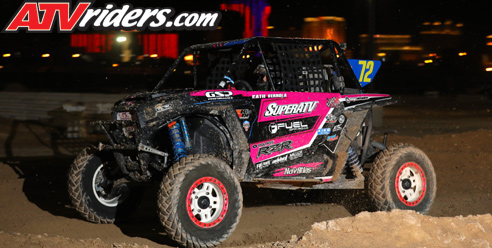 Super ATV/King Shocks/ Fuel Offroad's Katie Vernola
Vernola is now in full-on preparation mode for the UTV World Championship Best in the Desert Race. She will compete in both her desert and short course Polaris RZRs in that event.
"We have no time to waste," explained Vernola. "I have everything ready for the race. All of our parts are laid out. Right now we're pretty busy at the shop, but we're excited about this big round coming up. I am preparing more than I could have ever imagined."
Vernola is ready to redeem herself after winning the Perseverance Award in last year's event. With that experience under her belt, she is ready for greatness.
"This race means a lot to me," said Vernola. "I shed many tears at the last race and I'm ready for redemption. I won the Perseverance Award last year and I'm looking for a different award this year. I'm going to be double trouble in both of my cars."
Vernola will continue to turn heads as she takes on the best desert SXS racers in the country during the UTV World Championship April 13-15 in Laughlin, NV.
2017 Katie Vernola Racing Sponsors:
Polaris Industries, Super ATV, Fuel Off Road, Got Sand Performance, KING, Addict Racing, BAJA Designs, K&N, P.C.I, Fuel Safe, Miller Sign Corp, Cryo Heat, XTC Power Products, K1 RaceGear, Maverick Powder Coat