Pataskala, OH (4/26/2017) - Can-Am/XPS Lubricants/CT Raceworx driver Kyle Chaney kicked won the XC1 Pro SXS race at the Camp Coker GNCC in Society Hill, SC. In the process, Chaney took the points lead after his dominating run.
Can-Am's Kyle Chaney secured the Camp Coker GNCC XC1 Pro SXS Win, which boosted him into the points lead
With dust a major problem at the track, Chaney knew he had to get up front early. Though he missed the holeshot, he came out third. He was quickly in the lead going into the track's first woods section and he never looked back from there,
"From there I just tried to keep a good gap on them," said Chaney. "I don't know how far ahead I was, but I could see them coming into the motocross track and just tried to set a gap from there. The dust was pretty bad. If you were right behind someone, you were getting dusted out. It was nice to get my Can-Am out front early and stay out of the dust.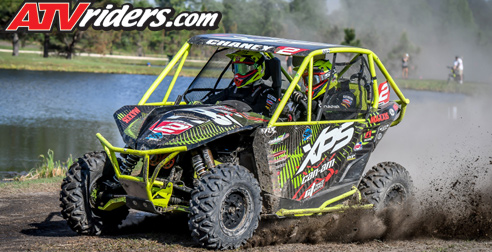 XPS' Kyle Chaney charged his way into the lead early in the first lap & held the lead to the checkered flag for the win in his Can-Am Maverick
"My Can-Am Maverick was awesome," added Chaney. "The track was pretty rutted out, but the Fox shocks worked great and the Maxxis Tires really hooked up."
The race was round two of UTV racing in the GNCC series. Chaney finished third in the first round. Combined with his victory, he now holds an eight-point lead going into the next race at his home track in Millfield, OH.
"We're excited to take over the points lead going into the next race," said Chaney. "That's my home track so we're looking for more good results there."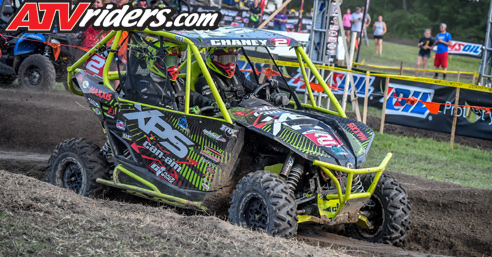 Maxxis' Kyle Chaney now holds onto a tight 8 point lead in the Pro XC1 SXS Class heading into the his home-state race the John Penton GNCC
While many teams are always looking for the next great thing to make their car more competitive, Chaney takes a more conservative approach. He has stuck with the same sponsors and the same Can-Am Maverick for the last five years.
"We just have this car dialed in," said Chaney. "We've been racing it for four or five years. We've stuck with the sponsors I've been with and we're successful every year."
Chaney will return to GNCC competition at the next round of UTV competition at the John Penton at Sunday Creek Raceway in Millfield, OH. That race is scheduled for May 27-28.
Kyle Chaney 2017 Sponsors:
Can-Am Off-Road, Maxxis Tires, CT Race Worx, FOX, DWT Racing, Factory UTV, Ballistic Performance Components LLC, Bell Powersports, SCOTT Sports, The Tire Ball Company (TireBalls), Rival Motorsports, EVO Powersports, SSI Decals, Beard Seats, DP Brakes, STM Powersports, MPI Wheels, Gates belts, Addict Racing Engines, Millennium technology's, NSK Bearings