Pataskala, OH (7/11/2017) - Can-Am/XPS Lubricants/CT Raceworx driver Kyle Chaney overcame technical issues to finish ninth in the John Penton GNCC at Sunday Creek Raceway in Millfield, OH. He sits third in points heading into the summer break.
Despite not having four-wheel drive at the start of the race, Chaney took the holeshot. However, with just rear wheel drive, he spun out in the second corner and then did his best to control the machine on the slick surface. A rear drive problem stopped him on the final lap.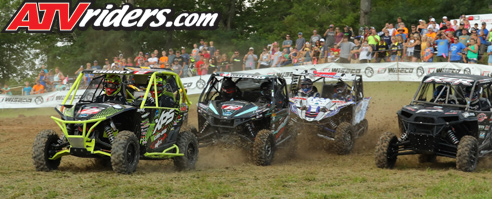 Can-Am's Kyle Chaney grabbed the John Penton GNCC XC1 Pro UTV Holeshot
"I knew something was wrong, but I didn't know I didn't have four-wheel drive," said Chaney. "I was able to mount some charges, but as the day went on, the track got much slicker and I wasn't able to do much in two-wheel drive. Then I lost a rear wheel bearing on the last lap. So it was a disappointing race."
Though the race represented a setback, there are still three races to go. Chaney has proven he can win and is ready to try to sweep the rest of the season.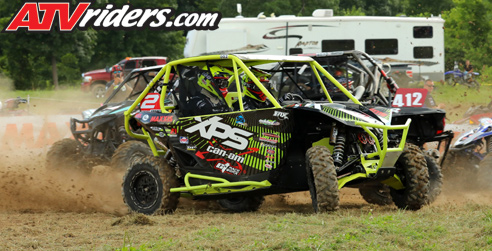 Can-Am's Kyle Chaney realized in the second turn he didn't have four-wheel drive when he spun out
"I really know I have the speed to win the last three races," said Chaney. "We'll work on the car and make sure it's ready. We're going to go back to the drawing board and I'm going to revamp our maintenance schedule. We'll make sure we don't have these issues again."
Chaney returns to the TORC Series next weekend as it visits Bark River International Raceway in Michigan. Chaney leads the Pro Modified UTV points going into that race. He'll also spend the summer break racing in WEXR, where he's won every round this season, as well as TORC and the Heartland Challenge.
"We've had a great season so far and have been on the podium at every race, except this one," said Chaney. "Everyone is going to have an off weekend. We'll put this one behind us and move forward."
Chaney will return to GNCC competition September 23-24 at the Mountaineer Run in Masontown, WV.
Kyle Chaney 2017 Sponsors:
Can-Am Off-Road, Maxxis Tires, CT Race Worx, FOX, DWT Racing, Factory UTV, Ballistic Performance Components LLC, Bell Powersports, SCOTT Sports, The Tire Ball Company (TireBalls), Rival Motorsports, EVO Powersports, SSI Decals, Beard Seats, DP Brakes, STM Powersports, MPI Wheels, Gates belts, Addict Racing Engines, Millennium technology's, NSK Bearings