Can-Am's Kyle Chaney Takes Powerline Park Pro Win
Kyle Chaney's Powerline Park GNCC XC1 UTV Race Report
Pataskala, OH (10/12/2017) - Can-Am/XPS Lubricants/CT Raceworx driver Kyle Chaney returned to GNCC competition where he left off and won the Powerline Park race in St. Clairsville, OH. Driving a Can-Am Maverick in the XC1 UTV class, Chaney dominated the event from start to finish.
Chaney returned to GNCC after missing the last round while he was running the final three TORC Pro Modified races. After winning the TORC Championship, Chaney came into the Powerline event with confidence. He scored the runaway victory by nearly 50 seconds and celebrated his second win of the season.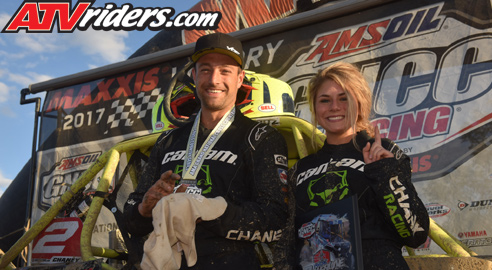 Can-Am's Kyle Chaney & Sarah Merry secured the Powerline Park GNCC Pro XC1 SXS Win
"It was just nice coming to the race and not worry about the points," said Chaney. "I had nothing to lose. Usually in GNCC I have to try to save the car and not drive 100%. This race I put the hammer down to see what I could do."
And he won in dominant fashion. Driving his trusty Can-Am Maverick, Chaney took the lead early on the first lap and ran away from there. Though the car drives completely differently than his Can-am Maverick X3 he raced in the TORC Series, he quickly got up to speed.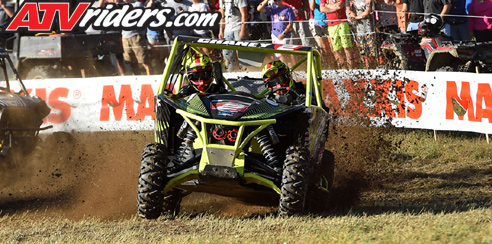 Maxxis' Kyle Chaney grabbed the holeshot
"Everything worked really well; my car was on rails," said Chaney. "My TORC car is double the horsepower, so I really had to hold down the throttle everywhere. It was definitely a different experience, but everything worked really well. My Maxxis Tires were hooking up, especially on the long uphill section."
Though he missed the last round, Chaney is still in mathematical contention for the championship. He sits third points, 30 points out of the lead. Though it's a long shot to win the title, still being in contention shows just how well Chaney has driven this year in GNCC.
"If Cody and Hunter finished out of the top 20 at Ironman and I win, I win the championship," said Chaney. "Cody and Hunter are really good drivers, but anything can happen, though I'm not going to count on it."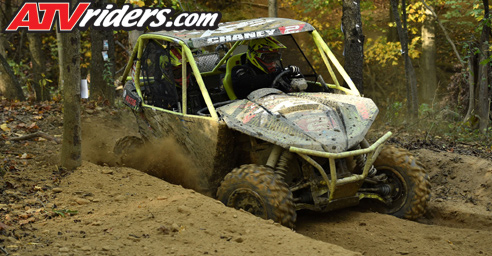 CT Race Worx's Kyle Chaney win has moved him back into the championship points race, but he will need to win & the top two racers in points finish outside the top 20 overall at the Ironman GNCC Finale
GNCC officials recently announced that turbocharged cars are eligible in XC1 next season. This will allow Chaney to step up and run the race-ready X3 in which he dominated TORC this season.
"I am so pumped about that," said Chaney. "The X3 platform is so much more race-worthy than what we're running now. Even though the car is bigger, the platform is just so much better for racing."
Chaney will finish out the 2017 GNCC season at Ironman Raceway in Crawfordsville, IN. That race is scheduled for October 28-29.
Kyle Chaney 2017 Sponsors:
Can-Am Off-Road, Maxxis Tires, CT Race Worx, FOX, DWT Racing, Factory UTV, Ballistic Performance Components LLC, Bell Powersports, SCOTT Sports, The Tire Ball Company (TireBalls), Rival Motorsports, EVO Powersports, SSI Decals, Beard Seats, DP Brakes, STM Powersports, MPI Wheels, Gates belts, Addict Racing Engines, Millennium technology's, NSK Bearings