Pataskala, OH (8/23/2017) - Can-Am/XPS Lubricants/CT Raceworx driver Kyle Chaney won the 10th Anniversary Heartland Challenge Pro Unlimited UTV race. It marked his first victory in the four-hour race since 2012.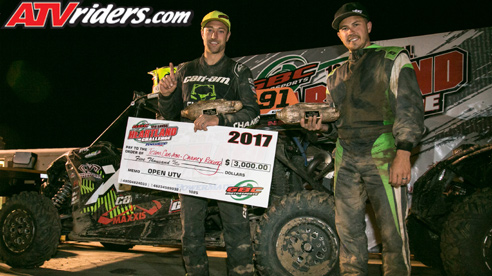 Can-Am's Kyle Chaney claimed the 10th Annual GBC Heartland Challenge $3,000 Prize for the Open UTV Win
The race was staged outside Carlisle, IA on a five-mile circuit. The track was typical for the event, comprising a cross-country course, with specialized obstacles including threes, rocks, logs and boulders. With very little rain leading into the event, visibility was a key issue.
Chaney took the holeshot in the land-rush style start and was quickly into the woods. Just prior to his first pit stop, he noticed his lights weren't working properly. After a lengthy pit stop to fix the electrical problems, he came out third, but it only took him a lap to get back the lead for good. He beat out 70 other competitors to take the win.
"I kept a steady lead after that pit stop," said Chaney. "The track was super dusty; there was literally no visibility. At about two hours, the dust was so bad it was making me dizzy. About three hours into the race, the dust got a little better because a lot of people fell out."
Kyle Chaney raced the Can-Am Maverick X3 at the Heartland Challenge
As the race continued, the track got rough. Chaney's Can-Am X3 was up to the challenge and as the track got rougher, it came into its own.
"The Can-Am X3 just works so well in rough conditions," explained Chaney. "The rougher the track gets, the better it works. The car was flawless all race. Despite the dust, the engine never coughed once. It never missed a beat."
The electrical problems didn't trouble Chaney. Considering the conditions and the length of the race, he knew he could easily get to the front. "It was a four-hour race, so I knew I no one would be pushing 100 percent like in TORC or GNCC," said Chaney. "I figured if I had to, I could put in a couple of fast laps and get caught up."
Chaney will return to the track to defend his points lead in the TORC Off Road Championship when the series returns to action September 1-2 at Crandon International Off-Road Raceway in Wisconsin.
Kyle Chaney 2017 Sponsors:
Can-Am Off-Road, Maxxis Tires, CT Race Worx, FOX, DWT Racing, Factory UTV, Ballistic Performance Components LLC, Bell Powersports, SCOTT Sports, The Tire Ball Company (TireBalls), Rival Motorsports, EVO Powersports, SSI Decals, Beard Seats, DP Brakes, STM Powersports, MPI Wheels, Gates belts, Addict Racing Engines, Millennium technology's, NSK Bearings