Kyle Chaney Takes TORC Win, Pads Points Lead
TORC Pro Modified UTV Report • Rounds 7 & 8 • Bark River
Pataskala, OH (7/19/2017) - Can-Am/XPS Lubricants/CT Raceworx driver Kyle Chaney added his sixth second-place finish and then won his first TORC Off Road Championship race. Chaney was racing in the Pro Modified class at Bark River International Raceway in Michigan.
Can-Am's Kyle Chaney secured his first win of the season at Round 8 of the TORC Series held at Bark River on Sunday
The 1.5-mile track was nearly twice as long as the previous circuits on the tour with wet and slick conditions at the beginning of the doubleheader racers quickly turning into tacky blue groove at the end. The eight-lap events featured TORC's mandatory competition caution at lap four.
Consistency has been Chaney's buzzword this season and he continued his streak of runner-up finishes in Saturday's race. Chaney took second on the lap five restart and nearly took the lead on the final lap, but earned his sixth-consecutive runner-up finish.
XPS' Kyle Chaney charged his way into the 2nd spot on Saturday, which he held to the finish for his 6th straight second place finish
"My suspension was really soft and we were bottoming out in some places so I was taking care of the car," said Chaney. "We just need to find out how to put on a charge early instead of waiting for the last two laps. I tried everything I could, but trying isn't winning. I still have the points lead and we're getting better every race."
In Sunday's race, Chaney put that charge in early. Taking the lead on lap two with a physical move in the track's esses, Chaney held on for the victory, his first this season. He now owns a 14-point lead in the title chase.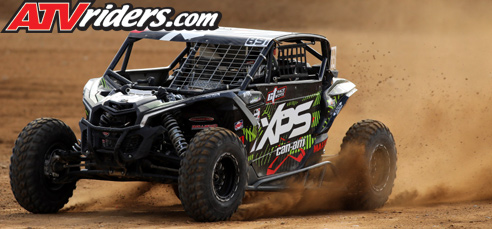 Maxxis' Kyle Chaney secured the win on Sunday, which boosted his points lead to 14 points
"Finally," exclaimed Chaney. "We have a good points lead now and that's some of the pressure off of me. I want to win more races, but taking a second or third is a little easier. The whole team has been good all year. I'm super happy with the Can-Am X3. We're taking a desert car and making it a competitive short-course car."
Setups for the TORC races have been a matter of give and take for Chaney. That was exemplified this weekend as the track completely changed over the eight laps in both races.
"We had all kinds of setup issues," said Chaney. "Even during the race, the setup was off at the end. During the first half of the race the setup was perfect. Once the track was broken in, we had problems in corners. I was just glad to hold on for the win. The competition here is crazy."
Chaney will bring his points lead and his A-game as TORC next heads to Redbud MX in Buchanan, MI August 12-13.
Kyle Chaney 2017 Sponsors:
Can-Am Off-Road, Maxxis Tires, CT Race Worx, FOX, DWT Racing, Factory UTV, Ballistic Performance Components LLC, Bell Powersports, SCOTT Sports, The Tire Ball Company (TireBalls), Rival Motorsports, EVO Powersports, SSI Decals, Beard Seats, DP Brakes, STM Powersports, MPI Wheels, Gates belts, Addict Racing Engines, Millennium technology's, NSK Bearings