Pataskala, OH (9/27/2017) - Can-Am/XPS Lubricants/CT Raceworx driver Kyle Chaney put an exclamation point on his TORC Series championship by winning the final round of the series at ERX Motor Park in Elk River, MN. Chaney, driving the venerable Can-Am X3, added a third victory for the season in dominant fashion and clinched the title.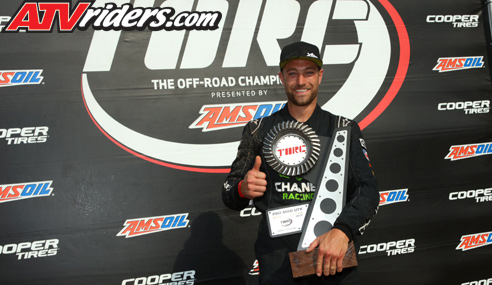 Can-Am's Kyle Chaney clinched the TORC Pro Mod UTV Championship by claiming two wins at the triple header season finale at ERX Moto Park
The events were part of a tripleheader weekend held on ERX's short course. The unique track included one of the series most grueling layouts with a mixture of sand, dirt and clay on the racing surfaces.
Chaney took the lead from fellow Can-Am driver Tim Farr on the second lap and then drove to a dominant win. He relied on the X3's superior handling and power to score the runaway victory.
Can-Am's Kyle Chaney took over the lead in the second lap and held it to the checkered flag for the win on Sunday
"I got out in front of Tim and ran my own race," said Chaney. "I was able to stay smooth and calm. He took a bad line off to the right and I was able to get by him. My Can-Am worked great."
Chaney ran the most consistent race of all TORC competitors this season. He scored six consecutive second-place finishes to start the year before earning his first victory at Bark River. He won two more races, and scored three additional podiums, but his fifth-place effort after cutting down two tires at the last race in Crandon stood out for him.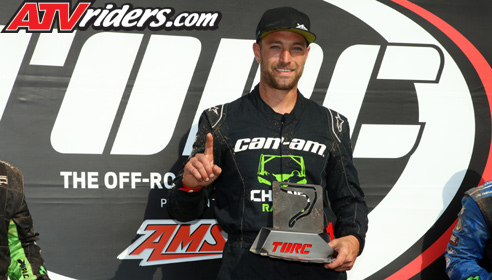 Kyle Chaney finished out the season on top the box with his third win of the TORC season
"This came down the wire," said Chaney. "We've been on the podium all year except one race. That one race really won this championship. I had two flat tires and still managed a good finishing position and some good points. That race saved our season. This didn't come easy. It took the whole team."
Can-Am Racing Project Leader Jeff Leclerc praised Chaney's efforts this season. In the end, Can-Am's finished first and third in TORC points.
"Kyle is a great driver with a great machine," said Leclerc. "It shows that when you combine a great driver with a great machine, the results are there. The X3 is a great platform here, in the desert, and also in the woods. We're having success everywhere in North America. We're proud of that platform and our market share is growing after every race."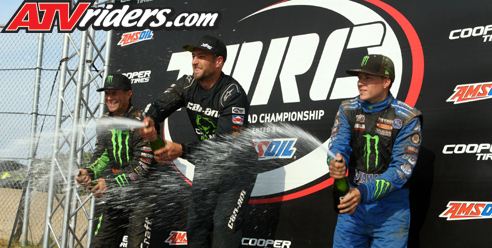 Can-Am's Kyle Chaney celebrates on the TORC Pro Mod UTV Podium
Chaney, with his Number 1 plate in hand, is looking forward to defending his championship in 2018. Look for him and his competitive Can-Am to be a frontrunner next season.
Kyle Chaney 2017 Sponsors:
Can-Am Off-Road, Maxxis Tires, CT Race Worx, FOX, DWT Racing, Factory UTV, Ballistic Performance Components LLC, Bell Powersports, SCOTT Sports, The Tire Ball Company (TireBalls), Rival Motorsports, EVO Powersports, SSI Decals, Beard Seats, DP Brakes, STM Powersports, MPI Wheels, Gates belts, Addict Racing Engines, Millennium technology's, NSK Bearings