Moreno Valley, CA (9/29/2017) - Larry Heidler teamed up with Ryan Piplic and the pair finished third in the Polaris RZR Silver State 150. Heidler navigated for Piplic in the event, which was round five of the Best in the Desert Series and held outside Caliente, NV.
Heidler has a long relationship with Piplic. He has purchased and driven several of Piplic's former Polaris RZRs in the WORCS Series. When he got the call to run with Piplic, he jumped at the chance.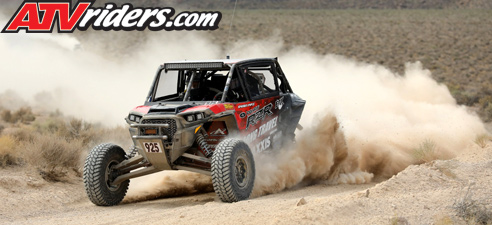 Larry Heidler was Ryan Piplic's co-driver at the BITD Silver State 150 & the pair scored a season first BITD Pro Turbo UTV Podium finish
"I've wanted to do some Best in the Desert so it was a great opportunity," said Heidler. "We had a good day. This was my first time in Best in the Desert. The course was so fun. I ran Baja back in 2006 and 2007 as a navigator and I don't have any problems with motion sickness. I may not have been pushing the gas or turning the steering wheel, but it's still racing."
Though their car lost turbo boost 50 miles into the event, with a high attrition rate and Piplic's excellent car preparation they finished third, marking Piplic's best BITD finish.
"Once the turbo went out, it was like driving an NA car for the last 100 miles, but Fox Shocks definitely hit the mark," said Heidler. "They soaked everything up. We passed a bunch of people with broken axles, but the Super ATV Axles held up great. With the length of the race, you have to have a good car. We saw people broken in the first two turns. That's a bad way to start the day."
So how did Heidler like his first BITD race? Let's just say he wants to come back.
"It was exciting," said Heidler. "He spends a lot of time prepping the car to make sure we have the best equipment out there to finish the race. Thank you to Ryan for giving me the opportunity. I can definitely see running in the Best in the Desert Series in the future. Hopefully next time I'll be driving."
Heidler will return to the WORCS Series as it finishes out the 2017 season on October 6-8th at Adelanto Stadium in Southern California.
Larry Heidler 2017 Sponsors:
BDR Motorsports, GBC Motorsports, Super ATV, AVI Wraps Raceline Wheels, FOX Shocks, Maxima Oils, DASA Racing, Hess Motorsports, Beard Seats, Tire blocks, Factory UTV, R3 Fabrication, Malcolm Smith, Troy Lee Designs, Skat Trak