Joel Hetrick Takes Podium Finish at Underground MX
Maxxis /Elka / Liquid Wrench / Honda Pro ATV Team Report
Salisbury, NC (4/6/2017) - Maxxis / Elka / Liquid Wrench / Honda Pro racer Joel Hetrick finished third in Round 2 of the AMA Pro ATV Motocross National Championship at Underground MX in Kemp, TX. Hetrick finished fifth in the first moto and won the second moto to record his second consecutive podium of the season.
After earning the ATVriders.com Fastest Qualifier award, Hetrick was running third in the first moto when he ran wide in a turn and his quad stalled. He made an impressive charge from last in the field to finish fifth.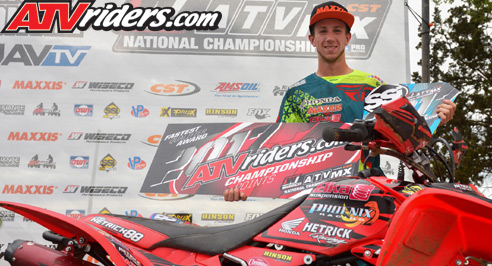 Joel Hetrick kicked off the day by claiming the ATVriders.com Fastest Qualifier Award
"I two wheeled it, ran myself out of a rut and stalled the bike," explained Hetrick. "It took me a few kicks to get it back running and I was a good ways out of last place when I got back on track. I was only up to seventh at the halfway point. I did everything I could, but I just ran out of time."
In the second moto, Hetrick pulled the holeshot, lost the lead briefly and then battled his way to first at the finish. Changes made to his Elka shocks during the weekend helped him record the moto victory.
DASA Racing's Joel Hetrick grabbed the Holeshot in Moto 2
"I did much better in the second moto," said Hetrick. "Doug Roll made some shock changes for me and that helped throughout the qualifiers and helped drastically in the motos."
It marked his second Holeshot Award of the season. He also took the holeshot at the season opener in Daytona. "The bike is working great," said Hetrick. "I had two great starts with the Maxxis Tires and the DASA motor ripping out of the gate. It all really came together this weekend."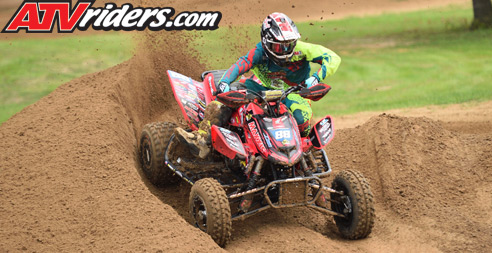 Maxxis' Joel Hetrick scored the Moto 2 Win, which boosted him to a 5-1 finish for 3rd Overall at the Underground MX
Hetrick is now second in points, nine points out of the lead. He is looking to overcome that gap quickly going into the next few races. "A couple of 1-1s would be great," said Hetrick. "Two of those and I'll be golden. It's a long season and things are already coming together."
Hetrick has joined several other riders at Pafford's track, preparing for the next race. That event is scheduled for April 15-16 at Monster Mountain MX Park in Tallassee, AL.
2017 Race Team Sponsors
Maxxis, Liquid Wrench, Elka, Fly, Scott, SSi Decals, DWT, Hinson, Bel Ray, Sunstar, Works Connection, Sandridge Foods, Impact Solutions, Fourwerx, Alpinestar, DC Designs, Precision Racing Products, Rath Racing