Noah & Haedyn Mickelson Shine in Texas MX Opener
Maxxis /Elka / Liquid Wrench / Honda Amateur ATV Team Report
Salisbury, NC (4/5/2017) - Maxxis / Elka / Liquid Wrench / Honda rider Noah Mickelson won two races during the kickoff of AMA ATV Motocross amateur racing at Underground MX in Kemp, TX. Haedyn Mickelson scored a second-place finish and a fifth, while Grayson Eller scored a best finish of sixth.
With threatening weather in the forecast, amateur racing was moved to Saturday and changed to a one-moto format. Noah and Haedyn Mickelson each won their heats and finished overall first and second overall, respectively in Pro Sport, which was scored based on the heat finishes. Noah Mickelson also won the 450 A race.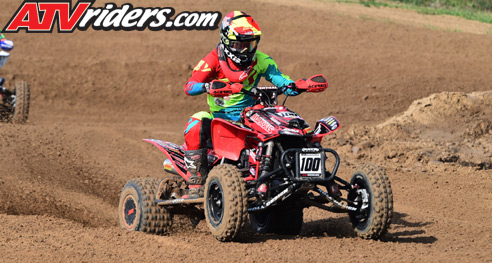 Noah Mickelson claimed wins in both Pro Sport & 450 A
"In the Pro Sport race, I pulled the holeshot, got the fastest lap and got the overall win," said Noah Mickelson. "In 450 A, I got the holeshot and ran my own race. It's really cool that we both got wins. I would have liked to run the second moto, but we'll have to do that next time."
Noah Mickelson credited his team for his success. The Mickelson brothers relocated to North Carolina from Minnesota to join ATV Motocross' "super team." The results are already speaking for themselves.
"I couldn't ask for a better setup," said Noah Mickelson. "The Elka suspension is amazing through the rough stuff and through the whoops. The track was really rough and that made it fun."
Haedyn Mickelson was also pleased with his heat win and second-place overall in Pro Sport. He also finished fifth in Pro-Am.
Haedyn Mickelson claimed the Heat Win in Pro Sport, but finished 2nd Overall in the class behind his brother, Noah
"The track was smooth because it was an early race," said Haedyn Mickelson of his Pro Sport race. "I had some good lines I found in practice. I made two passes into the lead and then tried to run my own race and not make any mistakes."
The track completely changed character for the Pro-Am race, which was run late in the afternoon. Haedyn Mickelson overcame the rough conditions and a bad gate pick to score the top five.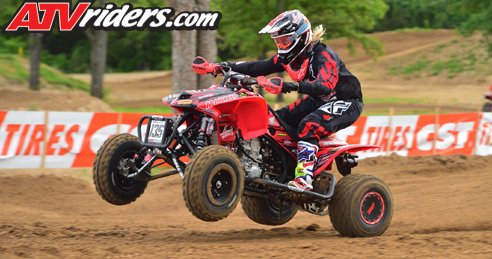 Haedyn Mickelson finished Top 5 in Pro-Am
"The track was pretty beat up and I didn't have a very good gate pick, so I got pinched off into the first corner," explained Haedyn Mickelson. "So I put my head down and charged as hard as I could. By the end of lap two, I was up to fourth. I was trying to catch up to third, but I was riding a little tight. I think a top three in Pro Am is definitely doable and Texas was a good starting point."
Grayson Eller had difficulties with his start in Production A. Though he came out nearly last at the gate drop, he recovered to finish sixth. Eller will work on his starts at the team's test track prior to the next race.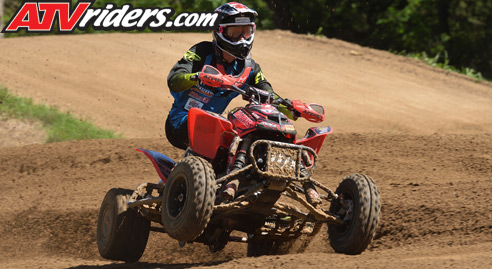 Grayson Eller finished 6th in Production A
"I made up as much ground as I could," said Eller. "I just tried to ride my own race and let things get to me. My starts aren't where I want them to be, but I will really work them before the next race."
The Maxxis/Elka/Liquid Wrench/Honda amateurs will be back in action as the ATV Motocross Series next heads to Monster Mountain MX Park in Tallassee, AL April 15-16.
2017 Race Team Sponsors
Maxxis, Liquid Wrench, Elka, Fly, Scott, SSi Decals, DWT, Hinson, Bel Ray, Sunstar, Works Connection, Sandridge Foods, Impact Solutions, Fourwerx, Alpinestar, DC Designs, Precision Racing Products, Rath Racing