Noah Mickelson Scores Second Straight 450A Win
Maxxis /Elka / Liquid Wrench / Honda Amateur ATV Team Report
Salisbury, NC (4/20/2017) - Maxxis / Elka / Liquid Wrench / Honda rider Noah Mickelson padded his points lead in the 450 A class by winning his second consecutive race during the AMA ATV Motocross National Championship race at Monster Mountain MX Park in Tallassee, AL. Despite the one-line nature of the track, teammate Haedyn Mickelson finished fourth in Pro Am, and Grayson Eller continues to improve.
Mickelson started second in the first of the 450 A motos and took the lead at the end when the leader bobbled. In the second moto, he snagged the holeshot and led every lap. Mickelson also finished seventh in the Pro Sport race.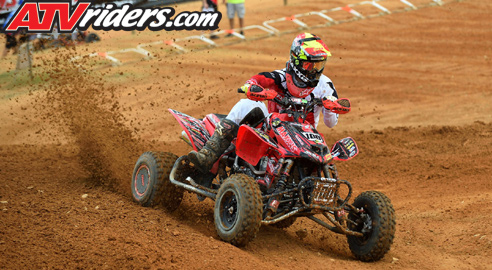 Maxxis' Noah Mickelson claimed wins in 450 A at Monster Mountain MX
"I was really focusing on the 450 A class this weekend," said Mickelson, "and it showed. In Pro Sport, I had some bad gate picks and finished seventh. Everyone is fast in the Pro Sport class and that track was really hard to pass on. I had to push some people so the entire race was a battle."
Haedyn Mickelson finished fourth overall in the Pro Am race, despite bad gate picks and lack of passing room on the narrow track. With the near-podium finish, Mickelson moves up one position to fourth in Pro-Am points. He also finished fourth in Pro Sport and sits third points in that class.
"The track was really one line, making it difficult to pass," said Mickelson. "I couldn't get my starts down and that made for a tough weekend. I had a lot more endurance this round and I'm looking forward to High Point. The track got a little rough, but it wasn't too much to handle with my machine, especially with the Elka suspension. I'm looking forward to seeing what I can do on a track that has some passing room. In the meantime, I'll be working on starts."
Eller recorded two top-ten finishes during the weekend. He was seventh in 450 A and ninth in Production A. Though the results don't show it, Eller made two hard charges during the four motos and finished 5th in the second 450 A moto.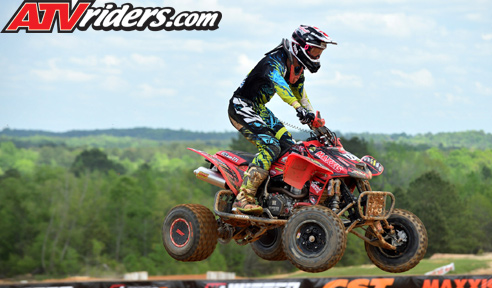 ELKA's Grayson Eller finished 5th in 450A Moto Two at Monster Mountain MX
"I was having trouble passing," explained Eller. "I got a mid pack start in the second 450 A moto and made some quick passes. I stayed up in the top five and hopefully that will give me some momentum going into the next round. I made a good charge in Production A, going from 18th all the way up to ninth."
The Maxxis/Elka/Liquid Wrench/Honda amateurs will be back in action as the ATV Motocross Series next heads to High Point Raceway in Mount Morris, PA April 29-30.
2017 Race Team Sponsors
Maxxis, Liquid Wrench, Elka, Fly, Scott, SSi Decals, DWT, Hinson, Bel Ray, Sunstar, Works Connection, Sandridge Foods, Impact Solutions, Fourwerx, Alpinestar, DC Designs, Precision Racing Products, Rath Racing