Joel Hetrick Takes Pro Win at Ironman ATV MX
Maxxis /Elka / Liquid Wrench / Honda Pro ATV Team Report
Salisbury, NC (5/18/2017) - Maxxis/Elka/Liquid Wrench/Honda's Pro team racer, Joel Hetrick, clinched his first overall win of the season at the fourth round of the 2017 AMA ATV Motocross National Championship, which was held at Ironman Raceway in Crawfordsville, IN.
Maxxis / Elka / Liquid Wrench / Honda's Joel Hetrick claimed the Pro ATV Win at Ironman Raceway
Hetrick gave it his all over the weekend and the results showed. "I am a little sore. The track was pretty brutal this weekend, but after two hard motos I got the overall. I have been struggling the first half of the season and finally getting the win will boost my confidence," said Hetrick.
Hetrick nailed the starts both moto's, claiming both holeshots. In moto one, Hetrick was passed and took second. In moto two however, Hetrick redeemed himself by leading every lap all the way to the finish. "Moto two Jeffrey Rastrelli was up there for about four or five laps, putting a good race on. I had to pick it up a little and I pulled a gap about halfway through and maintained that lead to the finish," explained Hetrick.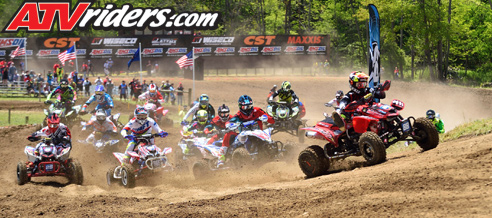 DASA Racing's Joel Hetrick grabbed Holeshots in both Motos
Hetrick would like to thank all the people and companies behind him who helped him reach the center of the box. "The bike was working great all weekend. The Dasa Racing motor ripped off the line and the Maxxis tires were hooking up great. Casey Greek has been grooming my tires and that helps out a lot," stated Hetrick.
Looking ahead to the next round and the rest of the season, Hetrick stays optimistic about the championship hunt. With only 15 points separating him from the point's leader of Wienen, anything could happen.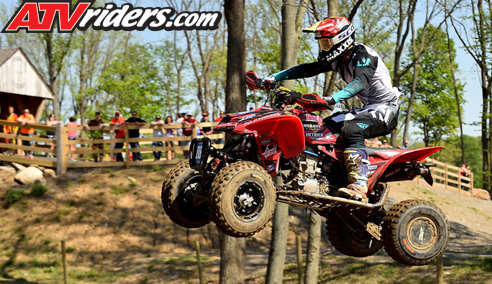 ELKA's Joel Hetrick is looking to go 1-1 at Muddy Creek, so he can begin to close the gap in the points championship
"I definitely want to pull off a 1-1 and gain some points next round. That's the goal, but realistically if I get a win I will be happy. I have six rounds to work with so I just have to get some 1-1s and I will be back in the fight."
Hetrick will continue training hard with his sights set on a 1-1 finish at the fifth round, which heads to Muddy Creek Raceway in Blountville, TN on June 3-4.
2017 Race Team Sponsors
Maxxis, Liquid Wrench, Elka, Fly, Scott, SSi Decals, DWT, Hinson, Bel Ray, Sunstar, Works Connection, Sandridge Foods, Impact Solutions, Fourwerx, Alpinestar, DC Designs, Precision Racing Products, Rath Racing