Noah Mickelson Takes Two Wins at Ironman ATV MX
Maxxis /Elka / Liquid Wrench / Honda Amateur ATV Team Report
Salisbury, NC (5/18/2017) - Maxxis/Elka/Liquid Wrench/Honda's amateur race team stacked up some impressive finishes at the fourth round of the 2017 AMA ATV Motocross National Championship. Noah Mickelson took home two overall wins, Haedyn Mickelson took two podiums, and Grayson Eller finished with two top ten finishes.
Noah Mickelson pulled off a flawless weekend, winning both Pro Sport and 450 A. Mickelson has now won every race of the season in the 450 A class and leads both classes in the points race for the national championship.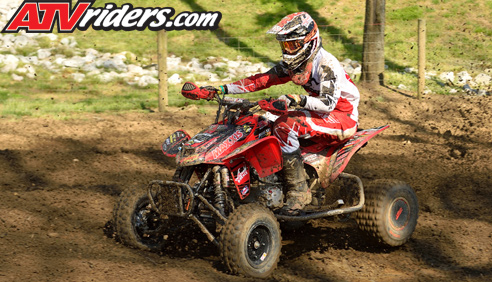 Maxxis' Noah Mickelson once again claimed the 450A Win, which is his third straight win of the season
"It was a fun weekend. Saturday I didn't feel too well in the 450 A class, but I managed to go out in Pro Sport and rode right behind my brother the whole race. Sunday I pulled off the holeshot and led 450 A the entire time. In Pro Sport on Sunday I was leading and Peyton got around me, but I passed him back and got the overall. It is a real confidence booster," explained Mickelson.
Noah Mickelson's weekend was made even better when he was able to share the Pro Sport podium with his brother, Haedyn Mickelson, who took third. The moment was also shared with his family. "I would like to thank my sister, her boyfriend, and my nephew for coming out to this race," said Noah.
ELKA's Noah Mickelson scored the Pro Sport Overall Win, which extended his points lead
Haedyn Mickelson showed everyone what he was capable of after taking second place in ProAm for his first podium finish in the class. "The first moto I had an amazing start. I pulled the holeshot and led about five laps," stated Mickelson, who ultimately finished second for the moto.
In the second moto of Pro Am, Mickelson was third out of the start and quickly worked his way into the lead for several laps. Westley Wolfe and Parker Wewerka eventually got around Mickelson, but he hung on strong for third place in the moto, and second place overall.
Haedyn Mickelson also ran in Pro Sport where he went 1-3 for third overall. "Moto one I pulled the start and ran my own race out front. Second moto I didn't get a very good jump out of the gate, and by the time I worked my way up to third Noah and Peyton were six seconds ahead," explained Mickelson.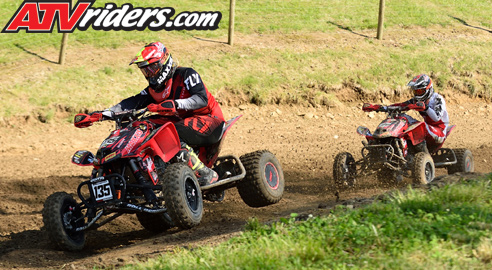 Maxxis' Haedyn Mickelson battled with his brother, Noah, in the Pro Sport Class with Haedyn finishing in 3rd overal, which has him 2nd in the points chase behind his brother, Noah
Mickelson credits his success to the support of his team and sponsors. "The Elka/Maxxis/Liquid Wrench/Honda was flawless. The track was super rough, but it really wasn't an issue with the Elka's, and I had tons of traction with the Maxxis tires. Everything worked really smoothly this weekend and I was super happy about it."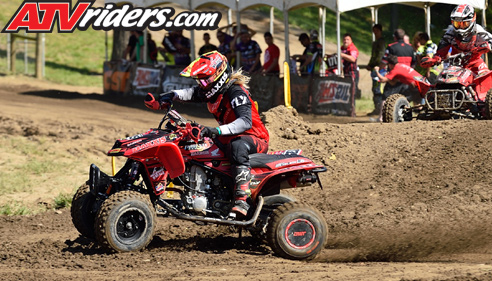 Maxxis' Haedyn Mickelson scored his first Pro-Am Podium in the 2nd Overall, which moves him up to third place in points
Grayson Eller took two top ten finishes in the A classes. In Production A Eller took ninth, and in 450 A he took eighth. "My best moto was 450 A on Sunday. I had 16th on the start and worked my way up to seventh. I passed a lot of people and it was a fun one," explained Eller.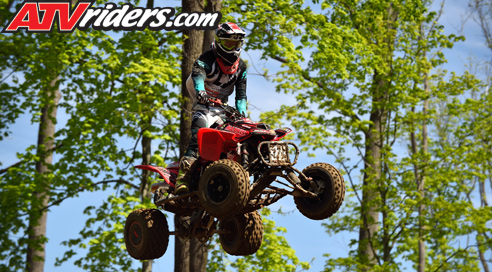 ELKA's Grayson Eller claimed two top 10 finishes at the Ironman MX
Eller has been struggling with bad gate picks and starts this season, but remains positive and resilient. "I'm not happy with it, but I am happy with the effort I gave. I'm trying not to get too discouraged with my starts because one day I am going to come through there and be where I need to be on the start and show people what I actually have," stated Eller.
The Elka suspension was key for Eller's success over the weekend. "The track was really rough. Breaking bumps were massive but it helped me pass a lot of people because I could take that rough stuff so much faster with that Elka suspension," said Eller.
The Maxxis/Elka/Liquid Wrench/Honda amateur team will return to the fifth round of the 2017 AMA ATV Motocross National Championship. Racing will he held June 3-4 at Muddy Creek Raceway in Blountville, TN.
2017 Race Team Sponsors
Maxxis, Liquid Wrench, Elka, Fly, Scott, SSi Decals, DWT, Hinson, Bel Ray, Sunstar, Works Connection, Sandridge Foods, Impact Solutions, Fourwerx, Alpinestar, DC Designs, Precision Racing Products, Rath Racing