Maxxis / Elka's Joel Hetrick Wins Muddy Creek
Maxxis /Elka / Liquid Wrench / Honda Pro ATV Team Report
Salisbury, NC (6/6/2017) - Maxxis/Elka/Liquid Wrench/Honda's Pro team racer Joel Hetrick won his second consecutive race of the 2017 AMA ATV Motocross National Championship. The race was held at Muddy Creek Raceway in Blountville, TN.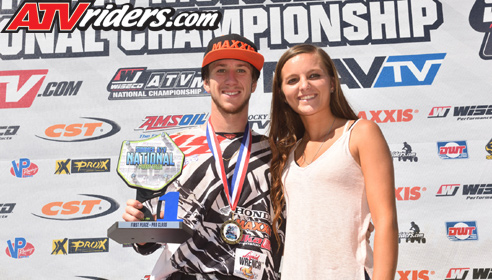 Maxxis / Elka / Liquid Wrench / Honda's Joel Hetrick claimed his 2nd straight Pro ATV Win at Muddy Creek Raceway
The victory allowed Hetrick to gain eight points in the championship. He now sits just seven points out of the lead by winning both motos in dominant fashion.
"It was a great weekend for the points championship," said Hetrick. "I put in two good moto wins. I had two great starts, which was key because the track was a little tight and it was hard to pass. I was super pumped to finally gain some points."
Hetrick snagged the SSi Decals Holeshot Award in the first moto. He also earned his third ATVriers.com Fast Qualifier Award. "The DASA motor pulled me out of there like a rocket," said Hetrick. "It's a lot easier to stay up front when you start up front. The Walsh/Elka combo works great on a hard-packed track like Muddy Creek. I just had an edge with that combination. I was able to turn and stick in all of the corners. The bike was working great. I had the fastest lap in both qualifiers and we didn't touch the bike after that. Everything was just clicking this weekend."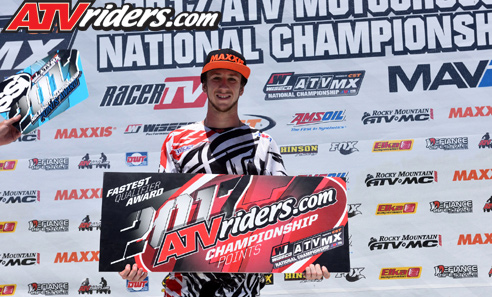 Maxxis / Elka / Liquid Wrench / Honda's Joel Hetrick claimed his 3rd ATVRiders.com Fastest Qualifier Award
In the second moto, Hetrick took the lead coming down the hill on the first lap. He was never seriously challenged from there, winning by over seven seconds.
"He took the inside line and I dived to the outside and just held it," said Hetrick. "The outside line worked out. With about four laps to go, I calmed down and ran a consistent pace. I didn't want to make any stupid mistakes."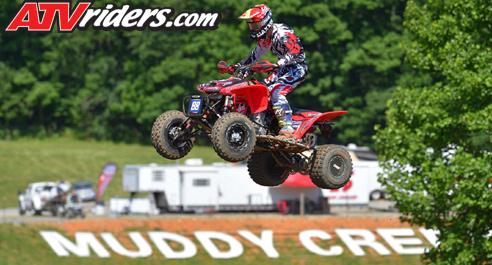 Joel Hetrick's 1-1 Win has moved him to within 7 points of the lead in the Pro ATV Motocross Championship points race
Hetrick's second consecutive win allows him to head into the next race at Sunset Ridge MX with an eye on continued success. He won the overall last year and is looking for a repeat performance.
"It will be great to keep the momentum going," said Hetrick. "I'm going to run each race as they happen and not worry about the points. That's what happened this weekend: I just went out and had fun."
Hetrick will continue to work hard and prepare with hopes on a third consecutive victory as the ATV Motocross series heads next to Sunset Ridge MX in Walnut, IL.
2017 Race Team Sponsors
Maxxis, Liquid Wrench, Elka, Fly, Scott, SSi Decals, DWT, Hinson, Bel Ray, Sunstar, Works Connection, Sandridge Foods, Impact Solutions, Fourwerx, Alpinestar, DC Designs, Precision Racing Products, Rath Racing