Noah Mickelson Sweeps Muddy Creek ATV MX
Maxxis /Elka / Liquid Wrench / Honda Amateur ATV Team Report
Salisbury, NC (6/6/2017) - Maxxis/Elka/Liquid Wrench/Honda's amateur race team scored another group of impressive finishes in 2017 AMA ATV Motocross National Championship at Muddy Creek Raceway in Blountville, TN. Noah Mickelson scored a pair of victories, Haedyn Mickelson netted a podium and a top five, and Grayson Eller snagged another top-ten finish.
Noah Mickelson celebrated his birthday by pulling off a flawless weekend, winning both Pro Sport and 450 A by finishing first in all four motos. Mickelson has won every 450 A race this season and leads the title chase by 37 points. He earned his third victory of the season in four races and also leads the Pro Sport points.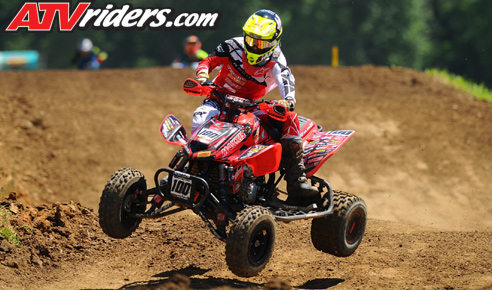 Maxxis' Noah Mickelson celebrated his birthday weekend by sweeping both motos in the Pro Sport and 450A classess
"All four motos I just ran my own race and had fun," said Mickelson. "The Sparks Performance Products engine has really helped with my starts. The Maxxis Tires help a whole bunch to get me going and keep me going fast. This brought it all together, and I had literally a perfect weekend."
Mickelson said his David Eller efforts as team owner has been the key to his success this year. ATV Motocross' "Super Team" offers him the ability train every day at its state-of-the-art facility.
"The team has been so important," said Mickelson. "They allow me ride every day, I have a training facility and they push me to be the best I can be. David Eller is behind this entire thing. If it weren't for him, I wouldn't be doing nearly as well as I am."
Haedyn Mickelson finished sixth overall in Pro Am after a third in the first moto and tenth in the second moto. He also recorded the fastest lap in Pro Am. He was fifth overall in Pro Sport after winning moto one and finishing tenth in moto two. The narrow track offered very few passing opportunities, and Mickelson had difficulties bad gate picks.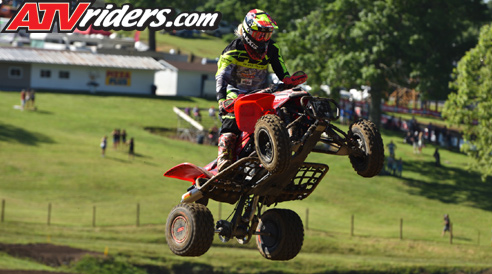 Maxxis' Haedyn Mickelson finished 6th Overall in Pro-Am
"I really had to put my head down today," said Mickelson. "It wasn't terrible, but obviously not what I'm capable of. The track was just so hard to pass. I got next to the guy in front of me, but I just wasn't able to get past. It was tough weekend, but it's just one race."
Grayson Eller finished 12th and eighth in the 450 A and Production A, respectively. Eller has been struggling with bad gate picks and starts this season, but he remains a competitor at heart.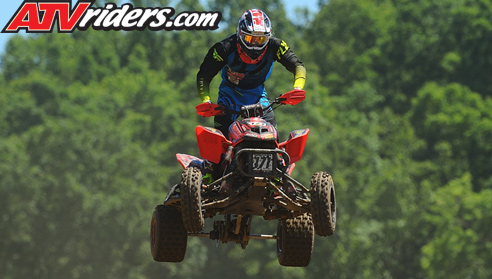 ELKA's Grayson Eller finished 8th in 450A at Muddy Creek
"I never had that track punish me for not getting a good start ever like it did this weekend," said Eller. "The track was so one lined, and there was barely any passing opportunity."
The Maxxis/Elka/Liquid Wrench/Honda amateur team will return to the seventh round of the 2017 AMA ATV Motocross National Championship. Racing is scheduled for June 17-18 at Sunset Ridge MX in Walnut, IL.
2017 Race Team Sponsors
Maxxis, Liquid Wrench, Elka, Fly, Scott, SSi Decals, DWT, Hinson, Bel Ray, Sunstar, Works Connection, Sandridge Foods, Impact Solutions, Fourwerx, Alpinestar, DC Designs, Precision Racing Products, Rath Racing