Noah & Haedyn Mickelson Go 1-2 at Sunset Ridge MX
Maxxis /Elka / Liquid Wrench / Honda Amateur ATV Team Report
Salisbury, NC (6/22/2017) - Maxxis/Elka/Liquid Wrench/Honda's amateur race team were again atop the podium in 2017 AMA ATV Motocross National Championship, this time at Sunset Ridge MX in Walnut, IL. Brothers Noah and Haedyn Mickelson finished first and second, respectively in the Pro Sport class. Grayson Eller made progress on his starting positions and scored a top ten and a top five.
In Pro Sport, Noah Mickelson scored his fourth victory of the season. He finished second in the first moto after snagging the holeshot and won the second moto in dominating fashion after leading every lap. He continues to lead the title chase in that class
Maxxis' Noah Mickelson leads his brother, Haedyn, in the Pro Sport Class
"I got the holeshot in the first moto, but lost the lead to Haedyn late in the race," explained Noah Mickelson. "I took the holeshot in the second moto, put my head down and won. The track workers made the track awesome. It rained every night we were there and it was nice to wake up every morning and the track actually be ride-able."
In 450 A, Noah Mickelson had difficulties in the first moto, finishing 14th, but he came back and won the second moto. Though he finished seventh overall, he still leads the points after having won the first four races of the season.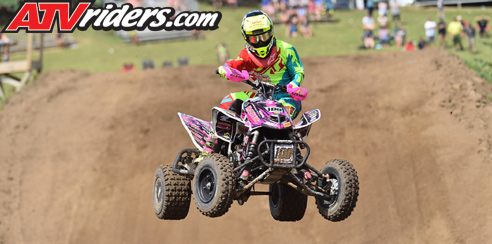 ELKA's Noah Mickelson finished 7th Overall in 450A
"I got tangled up in the first moto and we were too far back, but we won the second moto and finished seventh overall," said Mickelson. "I pulled the holeshot in the second moto and was just having fun. It was a fun race."
In Pro Sport, Haedyn Mickelson passed his brother to win the first moto and was fourth in second moto. He is currently second in Pro Sport points.
"It was pretty cool to go 1-2 with Noah in Pro Sport," said Haedyn Mickelson. "In the first moto, I got to catch up to him and pass him, which was nice."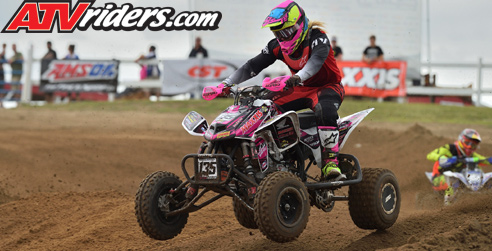 Maxxis' Haedyn Mickelson finished 2nd Overall in Pro Sport & 4th Overall in Pro-Am
He put down a 2-8 in Pro-Am to finish fourth overall. He now sits third in Pro-Am points. "I had the podium position locked up in the second moto, but I made a mistake and went over a berm," said Mickelson. "I'm not too mad about it. I learned from that mistake and I'm happy to get a top five and work my way up the points."
The Mickelsons will next race at Spring Creek MX in Minnesota. It will be a homecoming race for the Mickelsons, who hail from Eyota, MN. "Spring Creek is our home track," said Haedyn Mickelson. "It'll be nice to race in front of my family and friends there."
Eller finished fourth in Production A and eighth in 450 A. Eller continues to make progress on his starts and has shown increasing consistency as the season has progressed.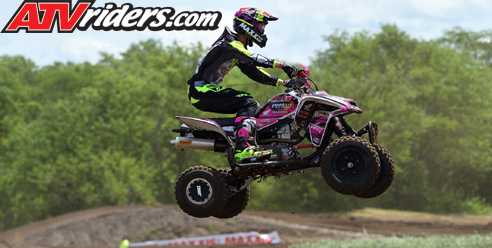 Sparks Racing's Grayson Eller finished 4th in Production A
"My starts were finally coming around this weekend and I was being more aggressive," said Eller. "The track was super fun; I loved how it offered a lot of different lines and how rough it was. I hope I can carry that fourth-place finish to the next round and continue with some good motos."
The Maxxis/Elka/Liquid Wrench/Honda amateur team will be ready for action as the ATV Motocross National Championship next heads to Spring Creek MX in Minnesota July 1-2.
2017 Race Team Sponsors
Maxxis, Liquid Wrench, Elka, Fly, Scott, SSi Decals, DWT, Hinson, Bel Ray, Sunstar, Works Connection, Sandridge Foods, Impact Solutions, Fourwerx, Alpinestar, DC Designs, Precision Racing Products, Rath Racing