Grayson Eller Takes Second in 450A at Spring Creek MX
Maxxis /Elka / Liquid Wrench / Honda Amateur ATV Team Report
Salisbury, NC (7/6/2017) - Maxxis/Elka/Liquid Wrench/Honda's amateur race team were again leading the pack in 2017 AMA ATV Motocross National Championship as the series headed north to Spring Creek MX in Millville, MN. Grayson Eller had a breakout weekend, finishing second in Production A and fifth in 450 A. Noah Mickelson earned his fifth victory in 450 A and finished third in Pro Sport. Haedyn Mickelson fought through injury to finish fourth in Pro Am and finished 14th in Pro Sport after a tangle in the first moto.
Eller has been improving on his starts all season. Practice made him nearly perfect on the weekend as he scored a 3-2 in Production A to finish second overall and score his first podium of the season. He backed that up with a 3-8 in 450 A and finished fifth overall.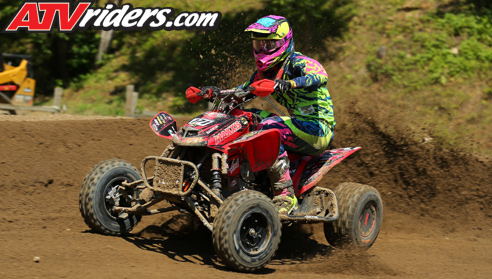 ELKA's Grayson Eller went 3-2 in Production A for 2nd Overall & finished Top Five overall in the 450 A class
"Millville was a blast," exclaimed Eller. "My starts started to finally come around and it felt great to battle with different people. The track was gnarly this weekend, but having Jay and Doug with us this weekend was a lot of help, they had our bike dialed in for this track in no time. I've really picked up some speed over the past month and I hope I can just keep this momentum going and finish the season strong."
For the Mickelsons, this round marked a homecoming for the brothers as they returned to their home state and their home track. Noah Mickelson defended both of his points leads with a podium in Pro Sport (8-2) and another victory in 450 A after winning both motos. Both Mickelsons were caught up in a first turn crash in the first Pro Sport moto.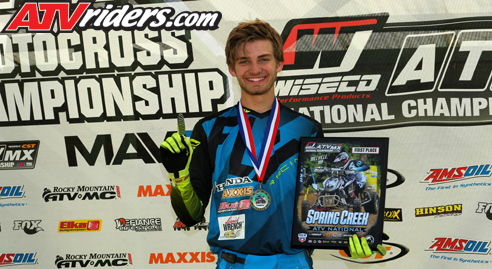 Maxxis' Noah Mickelson claimed his 5th Win of the season in 450 A
"That first corner was pretty hectic," said Noah Mickelson. "I was a little bit behind, but I made my way back through the pack. I made up for it in the second moto, so it wasn't too bad. I just rode smart on Sunday, so I tried to stay smooth for the whole race."
In 450 A, Noah Mickelson was dominant and tried to run smooth laps on the rough course. His points lead is such that he needs only to win once more to clinch the title. Once he wraps up the title, he may step up to Pro Am.
"The 450 A was a fun race," said Noah Mickelson. "I was riding smooth in the first moto, but I got caught on the last lap and held on for the win. In the second moto, I got the holeshot and just tried to stay smooth. That track was so rough and unpredictable, so I did my best to run consistent laps."
Haedyn Mickelson was caught up in the crash in the first Pro Sport moto. Though he walked away relatively uninjured, his Honda was severely damaged in the tangle and he was unable to finish the moto. He rebounded to fifth in the second moto.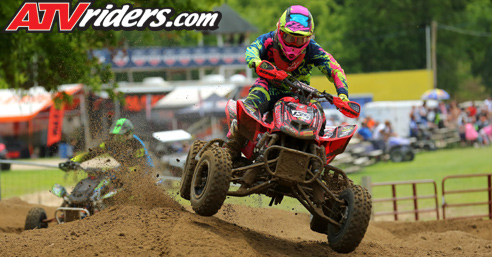 Roll Design's Haedyn Mickelson finished fourth overall in Pro-Am on Sunday
"I was sweeping around the first corner and I got hit from behind," said Haedyn Mickelson. "It flipped me over the bars, I got run over a few times and I'm pretty bruised up. I'm just happy I was able to walk away from it. In the second moto, I was really sore. I just went out there to loosen up because my ribs were really sore. I ended up fifth, which I'm really happy with considering how I was feeling."
In Pro Am, Haedyn Mickelson fought through pain and fatigue to finish fourth overall (5-3), scoring his fifth top five of the season. He is currently third in Pro Am points.
"I was running third on the final lap, my tether caught in my pants and shut off my bike," said Mickelson. "I lost two spots and finished fifth. In the second moto, I knew I had the speed to finish top three. The track was super rough, but the Maxxis-Elka setup was amazing. The suspension was just unbelievable."
The Maxxis/Elka/Liquid Wrench/Honda amateur team will return to action as the ATV Motocross National Championship next heads to Unadilla MX Park in New Berlin, NY July 15-16.
2017 Race Team Sponsors
Maxxis, Liquid Wrench, Elka, Fly, Scott, SSi Decals, DWT, Hinson, Bel Ray, Sunstar, Works Connection, Sandridge Foods, Impact Solutions, Fourwerx, Alpinestar, DC Designs, Precision Racing Products, Rath Racing