Maxxis / Elka's Joel Hetrick Takes ATV MX Points Lead
Maxxis /Elka / Liquid Wrench / Honda Pro ATV Team Report
Salisbury, NC (7/20/2017) - Maxxis/Elka/Liquid Wrench/Honda's Pro team racer Joel Hetrick recorded his second consecutive moto sweep and won the AMA ATV Motocross National Championship race at Unadilla MX in New Berlin, NY. His second consecutive win handed him the points lead with just two events left this season.
Hetrick recorded a complete sweep of the weekend's pro events, earning the fast qualifier award, taking both holeshots and winning both motos. It marked his fourth overall victory this season. He led every lap of the first moto and then held off his closest rival in an intense second moto.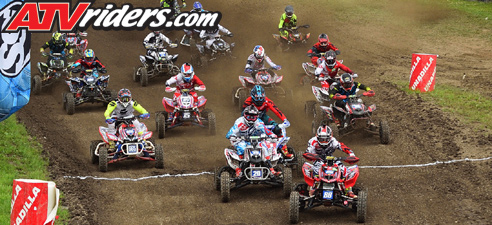 Maxxis / Elka / Liquid Wrench / Honda's Joel Hetrick grabbed both Pro Moto Holeshots
"We started out front, ended up front, and took the points lead, making for a great weekend," said Hetrick. "The first moto was pretty easy, but moto two was tough. Chad came out second and he was on my bumper the entire race. We finished just a second-and-a-half apart so it was pretty intense. I had to make no mistakes and that's what I did."
Hetrick and his Honda were up for the challenge of Unadilla's traditional high-speed sections and big jumps. Rain leading up the event left the track rough and hard packed for the race.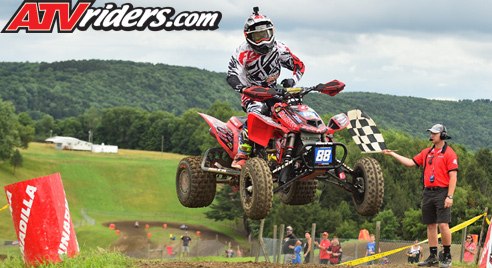 Maxxis / Elka / Liquid Wrench / Honda's Joel Hetrick claimed the Moto 2 Win, which boosted him into the points lead for the first time this season
"I was impressed with the work they did for the race," said Hetrick. "Doug Roll did a great job with my Elka Suspension. We didn't do anything crazy, be he did enough to get me that edge. The holeshots were a major part of this race and the DASA Motor and Maxxis Tires were ripping out of the starts. Dan Lamey has done a super job all year with the super fast engine. Everything was just clicking and the bike was working awesome."
Hetrick now holds the championship lead by five points going into the final two races of the season. Hetrick has a good history with the next track on schedule: Redbud MX. He won the last two races there.
"Looking at these last two races, it's going to get interesting for sure," said Hetrick. "We're actually holding a riding school for our Quadcross of Nations trip on Thursday on the main track. It will be nice to get out there and feel the track out. I've always done well there and I'm looking forward to it."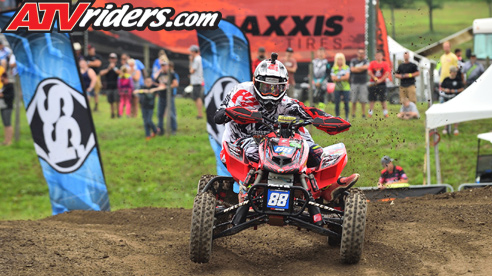 Joel Hetrick along with Chad Wienen & Thomas Brown are hosting a riding school at Red Bud on Thursday with all the proceeds going toward the Team USA Quadcross of Nations
All proceeds from the riding school will go to support travel expenses for Hetrick, Chad Wienen and Thomas Brown's as they attempt to win gold for Team USA at the Quadcross of Nations September 22-24 in Marche, Italy. Those interested in attending should email QuadMXUSA@Gmail.com.
"It's always advantageous to get a chance to run the track prior to the event," said Hetrick, who will join Wienen and Brown on the school day. "There will be more people there than just us three pros. Volunteers and other pros will be there. It will definitely be beneficial for the race weekend, plus it supports a great cause."
Hetrick will look to extend his points lead as the ATV Motocross series next heads to Redbud MX in Buchanan, MI July 29-30.
2017 Race Team Sponsors
Maxxis, Liquid Wrench, Elka, Fly, Scott, SSi Decals, DWT, Hinson, Bel Ray, Sunstar, Works Connection, Sandridge Foods, Impact Solutions, Fourwerx, Alpinestar, DC Designs, Precision Racing Products, Rath Racing