Mickelson Brothers & Grayson Eller Shine at Unadilla MX
Maxxis /Elka / Liquid Wrench / Honda Amateur ATV Team Report
Salisbury, NC (7/21/2017) - Maxxis/Elka/Liquid Wrench/Honda's race team were again at the top of the charts as the 2017 AMA ATV Motocross National Championship ran its most recent race at Unadilla MX in New Berlin, NY. Noah Mickelson notched a victory and a podium, while Haedyn Mickelson and Grayson Eller both turned in great performances at the fast and rough circuit.
Noah Mickelson continued his dominant run in the 450 A class, sweeping both motos to earn his sixth win of the season and is within just a handful of points of clinching the championship. He also finished second (2-2) in Pro Sport, putting his points lead there at 42.
ELKA's Noah Mickelson claimed his 6th 450A Class Win
"Saturday, the track was really rough," explained Mickelson. "The track just held the rain so the braking bumps were gnarly. It was a tough weekend with the competition, but I got through it safely. Sunday the track was a lot drier and not so rough. We had a good weekend."
Mickelson credited his team for the efforts they put forward this season. Leading one class in points is a big accomplishment, but to lead both with two races left? That's huge.
"I couldn't have done it without all the mechanics at the Maxxis/Elka/Liquid Wrench/Honda team," said Mickelson. "This season has treated me very well and I can't wait to see what the rest of the year brings."
Haedyn Mickelson also had a good weekend. After finishing second in the first Pro Am moto, he was running in the top three in the second moto before getting spun out. It took him nearly a lap to get restarted before finishing 12th for an overall seventh-place finish.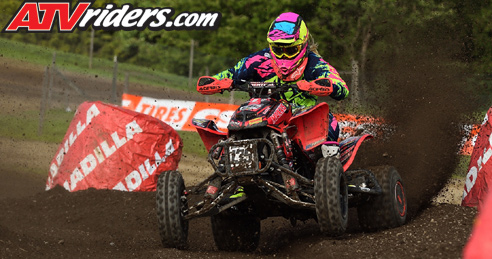 Roll Design's Haedyn Mickelson
"We had a decent weekend," said Haedyn Mickelson. "I was really looking for another podium in Pro Am, but I got hit coming out of a corner so it just wasn't in the cards. I battled hard in that first moto. We had a really good pace, and we were running the leader's lap times."
In Pro Sport, Mickelson turned in 4-5 for an overall third-place finish. His fourth podium of the season puts him second in points behind his brother Noah.
"The track didn't really allow for too much passing," said Mickelson. "We put on a good battle for four laps in the first moto before finishing fourth. I was still frustrated from the second Pro Am moto and I was a little banged up from my crash in Millville. So I'm happy to come away with a third-place finish."
Coming off his best weekend of the season, Grayson Eller put in another solid performance at Unadilla. He finished fifth in 450 A with 6-5 moto finishes and he was eighth in Production A (13-6)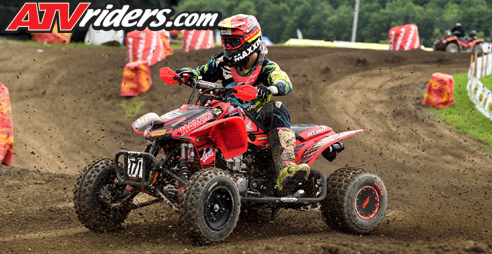 Maxxis' Grayson Eller finished Top Five overall in the 450 A class
"The track was really rough, but I had fun," said Eller. "Doug Roll helped us with the shocks and that was key to handling the brutal track. It was really a one-line track, but I do think I'm getting better at coming through the pack. I'm being more aggressive."
The Maxxis/Elka/Liquid Wrench/Honda amateur team will return to action as the ATV Motocross National Championship next heads to Redbud MX in Buchanan, MI July 29-30.
2017 Race Team Sponsors
Maxxis, Liquid Wrench, Elka, Fly, Scott, SSi Decals, DWT, Hinson, Bel Ray, Sunstar, Works Connection, Sandridge Foods, Impact Solutions, Fourwerx, Alpinestar, DC Designs, Precision Racing Products, Rath Racing