Maxxis / Elka's Joel Hetrick Extends Points Lead
Maxxis /Elka / Liquid Wrench / Honda Pro ATV Team Report
Salisbury, NC (7/31/2017) - Maxxis/Elka/Liquid Wrench/Honda's Pro team racer Joel Hetrick made it look easy, winning his third consecutive AMA ATV Motocross race at Redbud MX in Buchanan, MI. The victory extended his points lead in the championship to 11 going into the season finale.
For the third time in a row, Hetrick won both motos for the overall victory. After taking the holeshots, he put a sizeable gap on the field in both events and wasn't seriously challenged. The starts were key for Hetrick.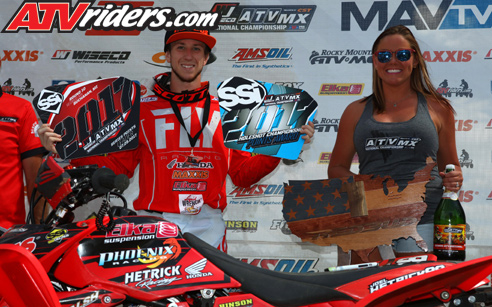 Maxxis / Elka / Liquid Wrench / Honda's Joel Hetrick claimed both moto wins at Red Bud to extend his points lead to 11 points heading into the season finale at Loretta Lynn's
"Those two holeshots really helped me get a gap out there," said Hetrick. "The DASA motor and Maxxis Tires are a great combination and I've been practicing my starts a lot. It's been a great year and I've really turned it around at the end of the season."
Hetrick came into the race with the points lead, displaying the red number plate proudly on his Honda. Jitters that can sometimes slow a charge weren't an issue for Hetrick. He and his team were prepared: mentally, mechanically and physically.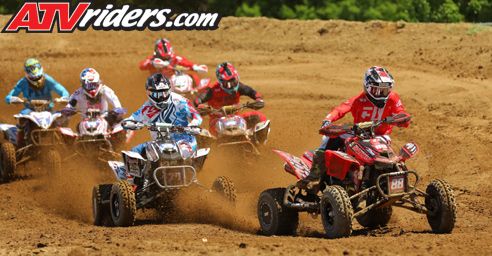 Maxxis / Elka / Liquid Wrench / Honda's Joel Hetrick grabbed both Pro Moto Holeshots once again & held the lead from start to finish
"I've won here before so I knew I could do it, and I had an opportunity to win last year," said Hetrick. "I rode two solid motos, got two holeshots and we put it all together. I just rode a smart race."
Hard work by his team, as well as key setup changes are what have made his late-season charge possible. Suspension setup was crucial at the traditionally rough Redbud.
"This is a team effort and it's really working this year," said Hetrick. "The track was rough, but Jay Gobel and Doug Roll had the Elka suspension dialed in. Doug Roll is a huge help to the team. He's done a lot of tuning. Today, we made a major shock change and it worked really well."
With an 11-point gap, Hetrick's first championship is looming. He needs only finish on the podium in both motos to the final race to clinch that title.
"I'm in a good position, one I've never been in before," said Hetrick. "We're going to look forward to our next two motos. I want to go there and try to win a moto and get on the box."
Hetrick will be looking for his first ATV Motocross National Championship at the season finale August 12-13 at the Loretta Lynn Ranch in Hurricane Mills, TN.
2017 Race Team Sponsors
Maxxis, Liquid Wrench, Elka, Fly, Scott, SSi Decals, DWT, Hinson, Bel Ray, Sunstar, Works Connection, Sandridge Foods, Impact Solutions, Fourwerx, Alpinestar, DC Designs, Precision Racing Products, Rath Racing