Noah Mickelson Wins Pro Sport at Red Bud ATV MX
Maxxis /Elka / Liquid Wrench / Honda Amateur ATV Team Report
Salisbury, NC (8/2/2017) - Maxxis/Elka/Liquid Wrench/Honda's amateur race team competed in the 2017 AMA ATV Motocross National Championship series at Red Bud MX in Buchanan, MI. To no ones surprise, the team once again put in some incredible rides. Noah Mickelson clinched another Pro Sport win and a fourth in 450 A. Haedyn Mickelson took third in Pro Sport, and Grayson Eller put in strong rides for seventh overall in 450 A.
ELKA's Noah Mickelson claimed his fourth Pro Sport ATV MX Win
Noah Mickelson has been putting in impressive rides all season, and his performance at Red Bud was no different with a win in Pro Sport and fourth in 450 A. "I believed I had both my championships locked up so I was just trying to have fun and ride. I couldn't be happier," said Mickelson. With the championships locked up, Mickelson may try his luck in the Pro Am class in the final round at Loretta Lynn's Ranch.
Heading into Red Bud, Mickelson knew the track would be rough and challenging. Preparation and training were key to taking the win. "The track is pretty rough, so I was kind of nervous going into it. We haven't had a really rough track since Millville, so I just rode the roughest tracks that I could find around where we were to prepare for Red Bud," explained Mickelson.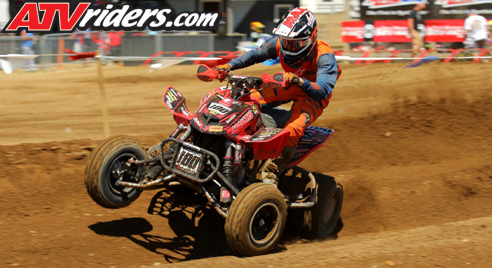 Roll Design's Noah Mickelson
Haedyn Mickelson battled his way to third in Pro Sport, and is second in the national championship points behind his brother Noah.
"Saturday I had a pretty decent start around fifth. I worked my way up to third. As I was battling with my brother for second I was trying to take some different lines and got passed, so I finished fourth. Sunday was close to the same thing. Everybody was running really good. I was just trying to stay safe and finish out because I knew I would finish top three if I went 4-4," explained Mickelson.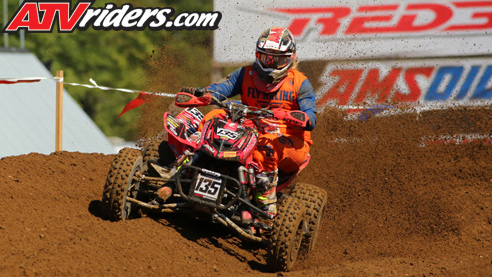 Maxxis' Haedyn Mickelson rounded out the top 3 in Pro Sport
In the Pro Am class, Mickelson went down hard in the start with a scary crash. "Another guy and I got together in the holeshot. I hit the ground really hard but got up and finished the race," said Mickelson. After the race was finished, Mickelson realized just how much pain he was in from the crash, and made the smart decision to sit out the next moto. With some time to heal up Mickelson will return at Loretta Lynn's as strong as ever.
Grayson Eller put in some great rides and improved upon his starts at Red Bud, but made a few small mistakes that kept him from the results he was hoping for. "Saturday I made mistakes in both my motos and I started Sunday off pretty bad with crashing in practice," said Eller.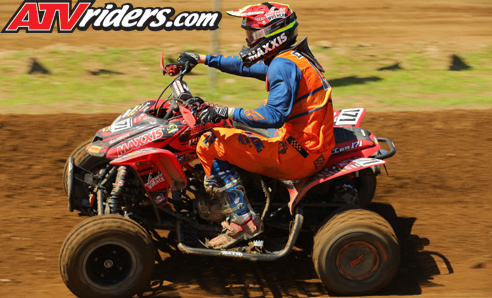 ELKA's Grayson Eller is currently 6th in both 450 A & Production A, so he is looking to move into the top five at Loretta Lynn's season finale
Despite the bad luck, Eller has maintained a great outlook and is optimistic heading into the next round. "I tried not to get too down and just understand stuff happens when you race. Not every weekend is going to go how you want it to go, you just have to deal with what they give you," stated Eller. Heading into the final round of the season, Eller hopes to put together a strong weekend and leave with two top five finishes in the points race.
The Maxxis/Elka/Liquid Wrench/Honda amateur race team will finish out the 2017 AMA ATV Motocross National Championship series at Loretta Lynn's Ranch in Hurricane Mills, TN August 12-13.
2017 Race Team Sponsors
Maxxis, Liquid Wrench, Elka, Fly, Scott, SSi Decals, DWT, Hinson, Bel Ray, Sunstar, Works Connection, Sandridge Foods, Impact Solutions, Fourwerx, Alpinestar, DC Designs, Precision Racing Products, Rath Racing