Maxxis / Elka's Joel Hetrick Clinches Pro Championship
Maxxis /Elka / Liquid Wrench / Honda Pro ATV Team Report
Salisbury, NC (8/15/2017) - Maxxis/Elka/Liquid Wrench/Honda's Pro team racer Joel Hetrick had a dream since he first started racing 20 years ago: to win a AMA Pro ATV National Championship. Through hard work, determination and an indomitable spirit, that dream came true as he clinched the AMA ATV Motocross National Championship by finishing second at the season finale at the Loretta Lynn Ranch in Hurricane Mills, TN.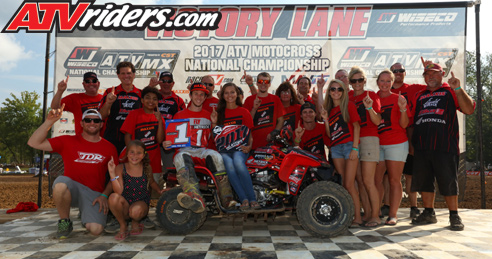 Maxxis / Elka / Liquid Wrench / Honda's Joel Hetrick clinched the AMA Pro ATV Motocross National Championship at Loretta Lynn's
Hetrick rode like a champion all season, finishing on the podium in all ten races including five overall victories with moto sweeps in the last three races, to net the title by 11 points.

Joel Hetrick claimed the Moto One Holeshot with his DASA Racing powered Honda
"I've been through a lot this year," said Hetrick. "The first couple of races weren't great. I thought after those races that our season was over, but I put my head down, charged hard and we got it. This is a childhood dream. I've worked for this all of my life; I've been racing for 20 years. I just can't say enough. It's an amazing feeling and I'm happy to be here."
Hetrick snagged the holeshot in the first moto and led every lap to victory.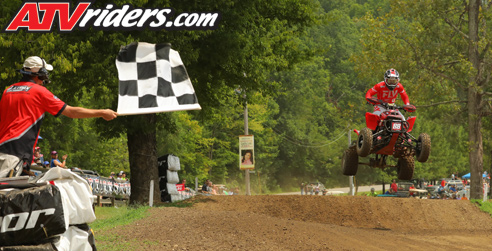 Maxxis / Elka / Liquid Wrench / Honda's Joel Hetrick claimed the Moto One win, which was his goal
In the second moto, he rode a smart and consistent pace to finish second. His overall second-place finish capped an impressive effort this season by Hetrick and his David Eller-led team.
"I'd like to thank the entire Maxxis/Elka/Liquidwrench/Honda Team, especially David Eller and Jonathan Parrish for their endless support," said Hetrick. "The bike was always 100 percent and I always had all the parts we needed. My mechanic Brandon Lauer worked his butt off all year to make this happen. Elka Suspension, Doug Roll and Jay Gobel did tons of work on my shocks all season and that made a huge difference and took a lot of stress off of me. The DASA motor is the reason I've been really good with the holeshots all season and the Maxxis Tires were gripping great. I've been wanting this forever and I'm blessed to have it."
In a true show of sportsmanship, Hetrick presented his number one plate to Debi Bartosek of 88 Live to Ride. After losing her son Matt in a crash in 2003, Debi Bartosek formed 88 Live to Ride to advocate safety in the ATV sport.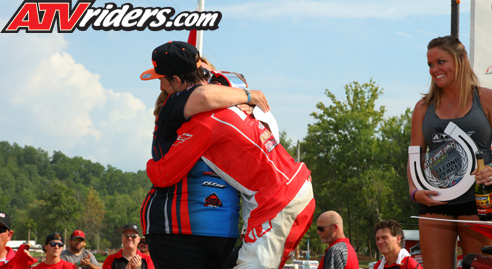 Joel Hetrick presented Debi Bartosek with his number one plate
"I've run the number 88 all of my life because of Matt Bartosek," said Hetrick. "She deserves this for all of her hard work."
Hetrick plans to return next season with Maxxis/Elka/Liquid Wrench/Honda to defend his title.
2017 Race Team Sponsors
Maxxis, Liquid Wrench, Elka, Fly, Scott, SSi Decals, DWT, Hinson, Bel Ray, Sunstar, Works Connection, Sandridge Foods, Impact Solutions, Fourwerx, Alpinestar, DC Designs, Precision Racing Products, Rath Racing