Maxxis / Elka Team Finishes Strong at Loretta Lynn's
Maxxis /Elka / Liquid Wrench / Honda Amateur ATV Team Report
Salisbury, NC (8/16/2017) - Maxxis/Elka/Liquid Wrench/Honda's amateur race team finished out the team's first season with strong results at the 2017 finale at Loretta Lynn's Ranch in Hurricane Mills, TN. Noah Mickelson led the charge by clinching national championships in both 450 A and Pro Sport. Teammates Haedyn Mickelson and Grayson Eller also put in strong efforts.
Noah Mickelson topped off his Pro Sport season with his sixth overall victory and he won the title by 44 points. He finished out his 450 season with a seventh-place finish, after having won six races, including four in a row to start out the year.
Roll Design's Noah Mickelson claimed his 6th overall win in the Pro Sport Class
How did his season go? "We won two national championships in A Class and Pro Sport, so I couldn't be more happy with this year," said Mickelson, who plans to run Pro Sport and Pro Am next season. "Everything went smoothly this weekend. I did the best I could, I didn't get hurt, and I came away with the championships."
Mickelson credited his team for the efforts they put forward this season. In its first year of competition, the David Eller-led team won the Pro National Championship with Joel Hetrick, as well as Mickelson's titles, showing that it delivered on the promise of setting the bar higher for ATV Motocross racing this season.
"To come into a new team, I didn't realize it would be this much better," said Mickelson. "It's amazing what David Eller has done for my family and I."
His Elka Suspension and Maxxis Tires were a big part of his two titles. Mickelson almost always had an edge at the start, something that is key to victory.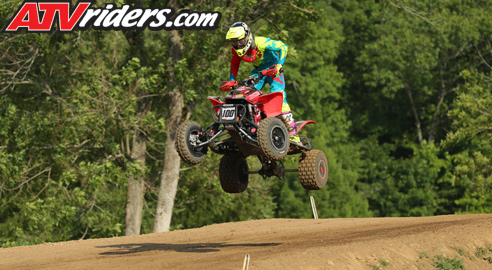 Maxxis / ELKA's Noah Mickelson won both the Pro Sport & 450A Class Championships
"Jay Gobel and Doug Roll from Elka helped us out all year," explained Mickelson. "They got all of our shocks ready before the season and they stood behind us at every race. The suspension was perfect at every track. I didn't have one problem with my Maxxis Tires. We changed a rear set every couple of races, and pulled all sorts of holeshots with them. The Tireblocks and Maxxis Tires were a great combination."
Haedyn Mickelson also had an excellent weekend. He finished second in Pro Sport, just behind his brother and equaled his best finish this season. That effort, along with six additional podiums handed him second in Pro Sport points. He scored a top five in Pro Am, finishing fifth in points.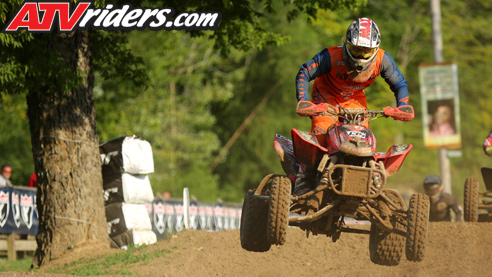 Maxxis' Haedyn Mickelson finished 2nd in the Pro Sport class Points
"This year has been really awesome," said Haedyn Mickelson. "Everyone on the team, all the mechanics and all of the riders, it's been a really awesome experience. I think it's going to be even better next year. We'll build off of our accomplishments this year and use what we learned and experienced to good use. There is nothing more I could really ask for."
In Pro Sport, Mickelson earned a moto win en route to his runner-up finish. He left Loretta's with a sense of accomplishment.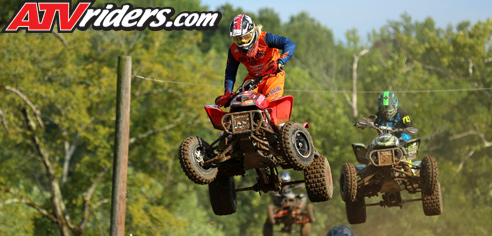 FLY Racing's Haedyn Mickelson rounded out the top five in the points in the Pro-Am Class
"I didn't really get to show what I could do this year because I had a lot of bad luck," said Haedyn Mickelson. "I put my head down and ended up winning the moto. I ended up catching and passing my little brother and that's fun. I put the moves on him and showed that I can win, too."
Grayson Eller continued his strong second half of the season here, finishing a season best third overall in 450 A. In Production A, he finished sixth.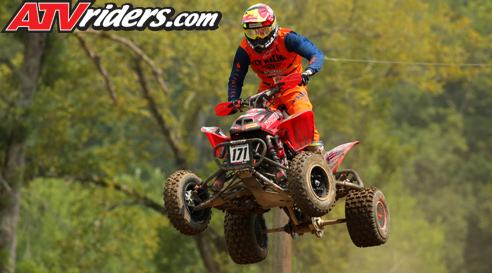 ELKA's Grayson Eller finished 7th in both 450 A & Production A points championship
"Our starts were really good," said Eller. "We've really turned those around in the last couple of rounds. When you start in the front, it's much easier to work your way up to the front. The track was really rough, but the Elka suspension was really working well. I was motoring past people on the roughest parts of the track."
Finishing strong was a great boost for Eller. He's already looking forward to next year. "I put in two solid motos and that was a good way to finish out the year," said Eller. "It's been a challenging year. Every guy is so fast. I love the competition and the challenge it brings. I can't wait to run 450 A and Pro Sport next year.
#171 Grayson Eller finished 3rd in 450 A on Saturday in Moto One
"I really came alive at the end of the season," added Eller. "I know what I need to do for next year to come out stronger. I need to work on my consistency, but I'll work hard in the off-season."
#14 Sky Volkamer raced the final rounds under the Maxxis/Elka Team Tent, which allowed him to wrap up the College 16-24 Class Championship & he finished 2nd in the 450 A Class Championship
The Maxxis/Elka/Liquid Wrench/Honda amateur team will spend the off-season preparing for another awesome season in 2018.
2017 Race Team Sponsors
Maxxis, Liquid Wrench, Elka, Fly, Scott, SSi Decals, DWT, Hinson, Bel Ray, Sunstar, Works Connection, Sandridge Foods, Impact Solutions, Fourwerx, Alpinestar, DC Designs, Precision Racing Products, Rath Racing