David Eller Going All out for the 2017 ATV MX Season
Maxxis / Elka / Liquid Wrench / Honda ATV MX Team Preview
Salisbury, NC (3/1/2017) - Maxxis / Elka / Liquid Wrench / Honda team owner David Eller conjured images of ATV racing's hay days and has stepped up his entire effort for the 2017 AMA ATV Motocross season. Eller's squad will see the return of Pro racer Joel Hetrick and amateur rider Grayson Eller. Brothers Haedyn and Noah Mickelson will round out the four-quad team.
After last season and along with the retirement of David Haagsma from ATV racing, Eller made the decision to create a true racing team; one where racers may come and go, but the program will remain constant. He built a "dream garage" race shop, along with a practice facility that includes tracks for his growing Arenacross effort, as well as an outdoor ATV racing facility. The team will be working out of a full semi-pulled transporter at each of the ATV Motocross races this season.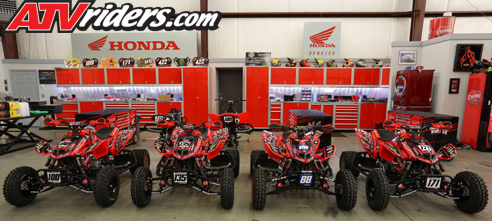 For 2017 the Maxxis / Elka / Liquid Wrench / Honda Team has expanded to four racers with a brand new race shop in North Carolina
"When Davie retired, it made us look at things differently," said Eller. "With any team, riders are going to come and go, so we wanted to build a team with mechanics, a shop, and practice facilities. As riders come and go, we'll work with them. The team will continue to grow as talent goes in and out."
The full race shop also includes a gym to help his riders keep their conditioning in top shape. The package is further accentuated by the team's transporter, which previously served as Honda's road race hauler.
The Team has a new semi-rig for the 2017 race seasaon
"In order to bring professionalism to the ATV pits that used to be there, we have to step it up," said Eller. "We need to show sponsors that we're committed to this sport. To bring that Honda presence back to the track is exciting."
The team will be managed by Haagsma's longtime mechanic Allan McCostlin. He's pleased to continue on with the team in his expanded role.
"Davie decided to step away from quads and focus on cars and SXS, so David needed someone to step in a run the team," said McCostlin. "I stepped in and took over that role. We have a new state-of-the-art shop. It's basically the NASCAR shop of ATV racing. It has anything you could imagine and it's very cool. I'm the team manager, and I build and maintain all of the equipment. We are building new ATVs for Daytona. The riders are practicing a lot, so there's plenty to do on the practice bikes, too. We're all pretty busy right now."
Hetrick, who challenged for the 2016 Pro ATV championship despite a hard crash in the season opener, is happy to return to the team in 2017. He's running a virtually identical Honda on which he raced last season.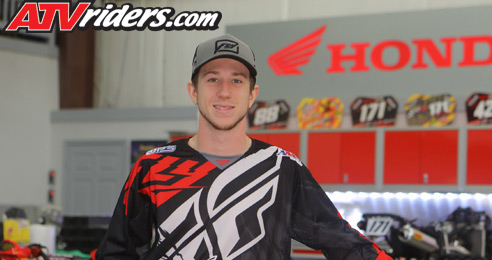 #88 Joel Hetrick is back with the Team for 2017
"I'm glad to return this year," said Hetrick. "David is going all out for us this year. It's truly a blessing to be here. He has everything we need and he's trying to give us every opportunity to win races. There are no excuses this year. With what he provides us, we'll be able to ride up to our abilities every weekend."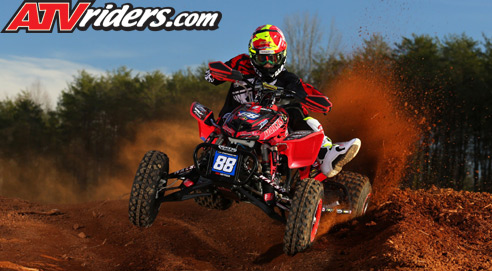 #88 Joel Hetrick
Grayson Eller will be competing in both A Classes this season. He returns to the expanded team with hopes of winning championships in both. He ran three classes last year and hopes one less class will give him more of an edge.
#171 Grayson Eller
"Everyone under the tent can help this year," said Grayson Eller. "Joel is running Pro and Haedyn is running Pro Am. Noah is running the same class as me and that helps me a lot. We all collaborate really well and have really good camaraderie under the tent. It helps having the variety of classes that our team members ride in. We can really learn from each other."
The Michelson's made the long move from Minnesota to join Eller's team this year. Haedyn will racing in Pro Am and Pro Sport, while Noah will compete in Pro Sport and 450 A.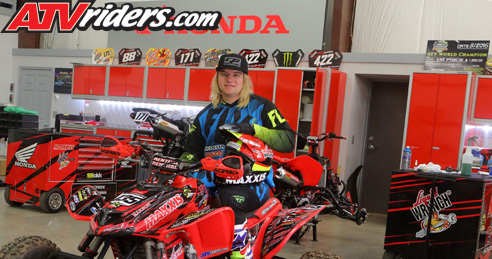 #135 Haedyn Mickelson
"This is really refreshing," said Haedyn Mickelson. "This team is really professional and it's interesting to see how they do things differently. They really cater to the riders. It's not 'Use what you get.' Instead it's "what do you want?' and this is like a dream shop. We have that amazing track right here. Last year was a big learning year, so I'm going to carry forward that momentum into this year."
Noah Mickelson was happy to join the team with his brother. He will compete in the Pro Sport class with his brother for the first time in his career.
#100 Noah Mickelson
"We're together now and it's going to be a fun year," said Noah Mickelson. "My dad always tried to not put us in the same class, so it will be pretty interesting. It's really easy to talk to the mechanics and get things done. The bikes are handling awesome so I'm pretty pumped for this year."
Look for Hetrick, Eller and the Mickelson brothers to be top contenders as the AMA ATV Motocross season kicks off at Daytona International Speedway for the Daytona Supercross on March 14.
2017 Race Team Sponsors
Maxxis, Liquid Wrench, Elka, Fly, Scott, SSi Decals, DWT, Hinson, Bel Ray, Sunstar, Works Connection, Sandridge Foods, Impact Solutions, Fourwerx, Alpinestar, DC Designs, Precision Racing Products, Rath Racing