UAE's Khalifa Alrasse Joins Eller Team for ATV SX
Maxxis / Elka Team Welcomes Khalifa Alrasse for Daytona ATV SX
Salisbury, NC (3/24/2017) - The Maxxis/Elka/Liquid Wrench/Honda team brought some international flavor to the Daytona Supercross as Emirati racer Khalifa Alrasse raced one of their Hondas at Daytona International Speedway. The event was the season opener for the AMA ATV Motocross Series.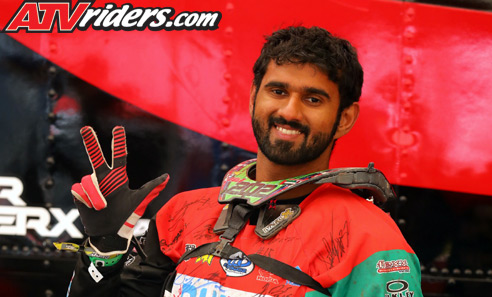 The Maxxis / Elka / Liquid Wrench / Honda team welcomed Dubai racer, Khalifa Alrasse, to race in the Daytona ATV Supercross
While Dubai might be known more for its supercars, Alrasse is a quad racer at heart and he showed it here. Alrasse steadily made progress as the weekend progressing, finishing fifth and then third in his two heats. He finished that off with a consistent run in the main.
"The love of ATVs is born in the USA," said Alrasse. "We watch it in our country and we love it. I hope others can come and see what I have seen and experience what I was able to do. This was like a dream come true for me. I took a 16-hour flight and this made that time worth it. The family atmosphere here was lovely. They give you all of the love and the good feelings."
Team owner David Eller was happy to bring Alrasse on for the racing weekend. Alrasse rode one of team rider Haedyn Mickelson's quads for the event. The ride came together through a unique set of circumstances involving the AMA's Tim Cotter and the team.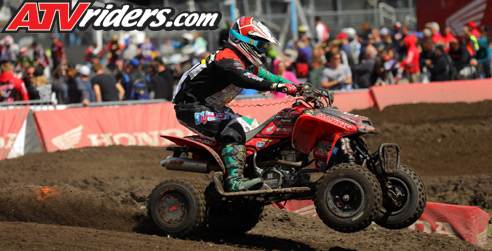 Khalifa Alrasse steadily made progress finishing fifth and then third in his two heats
"Khalifa has a great sense of humor and he's a good racer," said Eller. "He spoke excellent English. He was a good sport and he represented his family and his country well. The bikes he rides in Dubai don't have as much horsepower as the bike he was riding here. But the more he rode, the more comfortable he got."
After the race, Alrasse was already talking like a motocross regular. He made sure to thank all of his sponsors for the opportunity to race.
"This Honda is amazing," said Alrasse. "It helped me on the holeshot. This is all from the engine. The Hinson Clutches, Maxxis Tires, and the Elka Suspension worked together to give me the holeshots."
Alrasse's full-time job is as a Dubai police officer and he took his vacation time to race in Daytona. He hopes to return to race again next season.
Khalifa Alrasse getting air at his first-ever Daytona Supercross race
"I am going to get the support I need to try to come back," said Alrasse. "I am willing to do Daytona as much as I can. This is heaven on earth for the quad racers."
Eller said he would be welcome to race again for the Maxxis/Elka/Liquid Wrench/Honda Team. Eller said that several of his regular racers may go over to the UAE to race with Alrasse.
"He had to take time off work, so he'll have to see what he can do about the time, but he does want to come back," said Eller. "We're excited because some of our riders are going to have the opportunity to run a race over there with him."
The Maxxis/Elka/Liquid Wrench/Honda Team will be back in action with riders Joel Hetrick, Haedyn Mickelson, Noah Mickelson, and Grayson Eller as the ATV Motocross Series next heads to Underground MX in Kemp, TX April 1-2.
2017 Race Team Sponsors
Maxxis, Liquid Wrench, Elka, Fly, Scott, SSi Decals, DWT, Hinson, Bel Ray, Sunstar, Works Connection, Sandridge Foods, Impact Solutions, Fourwerx, Alpinestar, DC Designs, Precision Racing Products, Rath Racing