Monroe, NC (5/17/2017) - The Mills family and Mills3 Racing kicked off the 2017 racing season in the TORC Off Road Championship during the Chicagoland Slam at the Dirt Track at Route 66 Raceway in Joliet, IL. Father and son Chris and Payton Mills will compete full time in the Pro Stock and Pro Modified classes this season.
The Mills have changed everything on this program this year. They switched from Polaris RZRs to Yamaha YXZ 1000s. They moved from the WORCS off road series to the short-course TORC Series. They welcomed a host of new sponsors. However, one thing remains constant: family.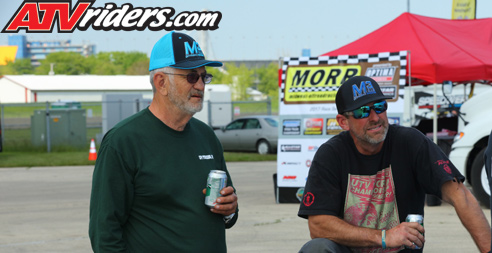 Mills3 Racing's is all about family with three generations of the Mills family traveling to the races together
"My dad is 75 years old and he's having a good time with us," said Chris Mills. "To me, this is what it means to be a father. Payton is learning how to use a wrench and how to talk to people and what racing is about. It's great bonding time."
Though they had a difficult first weekend, Payton Mills finished first in one of the Sportsman races. He was using the event to gain experience and seat time for his Pro Modified effort.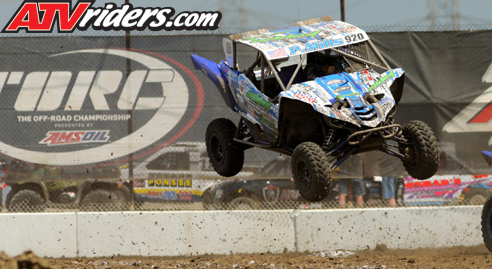 Fuel Off-Road's Payton Mills charged his way through the pack on Sunday to take the checkered flag in the Sportsman Class
"We had tough times in qualifying in the Pro class and I really needed some more seat time as I had only driven the car two or three times before this weekend," explained Mills. "I started last in class and I was trying to get the seat time to help with Pro qualifying. It was fun battling back and forth with these guys. It won't be long before they are at the Pro level."
The younger Mills is happy the team switched to Yamaha this year. The YXZ 1000 is different from most UTVs on the market because of its use of a standard shift transmission, instead of a CTV. Mills said that makes a big difference in its competitiveness.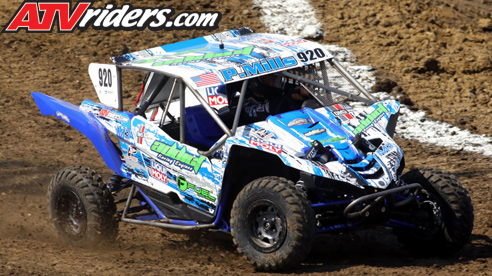 Addict Racing's Payton Mills
"The Yamaha is a totally different ball game," said Payton Mills. "With the Polaris, you have to worry about letting up on jumps and blowing belts. You don't have to worry about that with the Yamaha. It's a lot smoother ride."
The team welcomed several new sponsors this season. German oil company, Liqui Moly is on board this season and Fuel is supplying wheels and tires. The family business Pearson Archery is also backing the team. Greaves Motorsports built the cars supplied by Powersports One and Addict Racing Engines is providing their race-winning power. Dan from All Terrain Communications is also helping, providing radios to the team and acting as spotter.
"Liqui Moly has done a great job of getting us products to make our car run well," said Payton Mills. "Fuel Wheels and Tires are great. Pearson Archery supports us 100%. It's our family company and it keeps us going for every race. Motorsports One hooked us up with the Yamaha and gave us everything we needed. They sent us over to Greaves Motorsports who setup our car and it handled like a champion."
Chris Mills decided that he wanted to go a different direction this year. After running the West Coast based WORCS Series in 2016, he wanted to race a little closer to home. TORC was an obvious choice.
Liqui Moly's Chris Mills
"We had a great time in WORCS, but we wanted our program at home this year," said Chris Mills. "TORC features stout competition, and it's going to be that way all season, but it's a great series."
Chris Mills exemplifies the term "Racer." Though they had difficulties in the season opener, he's not ready to hang his head. Instead, he's ready to grow from here.
"We didn't have the weekend we wanted, but that's what separates the men from the boys," said Mills. "You can't crawl under a rock. You have to take the good times with the bad. We're going to build the program from here and get things pointing in the right direction. We're going to go home and get ready for Minnesota."
In that vein, Chris Mills was having problems getting his ride going for the Sunday race and fellow competitor Zach Martin stepped in to help. He loaned the Mills team his extra YXZ 1000 for the race.
"We were talking about the problems we were having and he said 'I have this extra car over here. If you'd like to drive it, you're more than welcome to it,'" said Mills. "That's what it's all about. Everyone in the pits helps each other out and I want to give a big shout out to Zach Martin for loaning me his car to get through the Sunday race."
Mills3 Racing will be ready to bounce back as the TORC Off Road Championship heads to ERX Motorpark in Elk River, MN. That race is scheduled for June 10-11.