Monroe, NC (9/8/2017) - Mills3 Racing had the experience of a lifetime as the three generations of the Mills family competed at Crandon International Off-Road Raceway in Wisconsin. Father and son Chris and Payton Mills competed in the Pro Modified and Pro Stock classes in round 11 of the TORC Series and in the special Crandon World Cup, while grandpa Robert watched from the stands.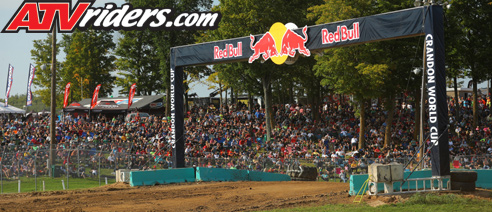 Over 60,000 Fans went through the gates at Crandon this year, which set a new attendance record
The event has long held a starring role in the off-road racing calendar and this year's events set records. With an unprecedented 60,000 fans in the stands for the races, as well as other special events, including a Friday parade through Downtown Crandon, the event was in a word: Awesome.
"This was honestly one of the best experiences I've had in my racing career," said Payton Mills. "There were tons of fans there and it was fun interacting with the crowd. There was stiff competition across all of the classes. We really enjoyed the weekend. With 60,000 fans sitting in the stands, we just tried to give them a show."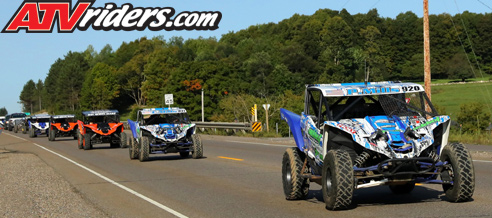 Payton Mills leading Chris Mills down the highway toward downtown Crandon for the Friday Parade
Chris Mills was also amazed by the event. The large crowd helped pump him during the race weekend. "This event in unexplainable," said Chris Mills. "This is insane the amount of people, the amount of racers, and the quality of racers. It was so fun to be a part of it."
The parade showcased trucks and UTVs parked along the main drag through town as well as the side streets. Fans were able to get an up close look at the machines and hang out with the drivers. "The parade was awesome," said Payton Mills. "It was great to see all of the people and it was nice to get all of the racers down there. This really gave the fans a unique chance to interact with the drivers and see the cars up close."
Chris Mills heading down Main St in Crandon for the Parade
The highlight for the weekend was Sunday's special non-points Crandon World Cup race. Payton Mills competed in the Pro Stock class and finished 14th. He was happy to see everyone compete in the event.
"People travel such a long way to these races and if you miss your setup and didn't have a good day in qualifying, you end up missing the race," said Payton Mills. "So it was great for them to allow everyone a chance to race. It gave the Sportsman guys a chance to see if they wanted to move up to run with the pros. It was a little crowded, but that's really part of racing. You have to learn to get around people. There were definitely some good battles out there. That's what we enjoy: battling back and forth with other racers."
Chris Mills finished eighth in Saturday's Pro Modified race. Though the track was rough and muddy, he made it through and showed just how much he's learned in his first TORC season.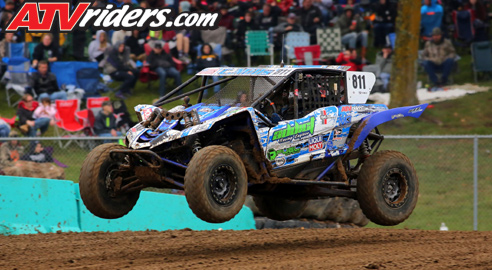 Addict Racing's Chris Mills finished a solid 8th Place on Saturday in the mud, which was his second best finish of the TORC season.
"The rain changed the track a lot," said Chris Mills. "We had practice in the dry on Thursday and then the rain made it into a one-groove track. It was tough to pass, but we finished eighth and in this crowd, that's a great finish."
Track conditions made setup a crucial step to being competitive. The team tested their FTI Suspension prior to the event and their Fuel Wheels and Tires were perfect for the wet racing surface.
"We spent a day testing the FTI suspension before we came up here and we were dialed in," said Chris Mills. "The Fuel Tires were working great and the Yamaha is just a great car. The cars are right and we're ready to move into the next level."
Racing is more than just a hobby for the Mills family. It's a family tradition and three generations of Mills enjoyed the quality time they spent together this season.
"It's a big deal to get everyone together and enjoy the weekend together," said Payton Mills. "We've become a lot closer and got to enjoy some good family time during the races. Mills3 will come on strong next year. We'll have a few more people behind us. We'll see what happens."
Like any competitive team, Mills3 has a long list of sponsors that keeps them competitive at every race. "Jim with Addict Racing Engines has been our crew chief, a great spotter and he's just been a huge help," said Payton Mills. "Owen Motorsports has been super supportive through the whole thing. Liqui Moly has really helped out, getting us the right lubricants to ensure our cars run right. Fuel Off Road has always hooked us up with wheels and tires and made sure we're set for each race. Greaves Motorsports has helped us out with anything we needed. Powersports1 and Yamaha have been huge to stand behind us. They always have the parts we need to make sure we can make the next race. Studio 10 Wraps made our cars look good. Dan from All Terrain Communications has been a huge help. He's been at all of the races, making sure our communications are ready to go. Cal at FTI Suspension made sure our cars were dialed in for this weekend, and we can always count on Harlen and Faith Foley to capture the best action photos."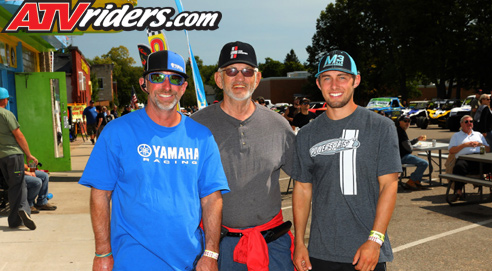 Mills 3 Racing is a all about family with Chris, Robert, and Payton Mills
Mills3 Racing is already planning for next season. Look for the team to continue to grow as it competes with the best of the best in short course off road racing.
Special Thanks to Mills3 Racing Sponsors:
Addict Racing Engines, Owen Motorsports, Fuel Off Road, Liqui Moly, Powersports1, ATVRiders.com, Studio 10 Graphics, All Terrain Communication, Rugged Radios, DW Performance, Risq Threads, K1 Racegear, Greaves Motorsports, FTI Suspension, CPS Trucking, Yamaha, RevUp Graphics, WebCams, Pearson Archery