Downey, CA (1/13/2017)
- Murray Racing's Jason and Derek Murray overcame bad luck to record their 46th consecutive finish at the UTV Nationals Parker 250 in Arizona with a ninth place finish. The brothers were driving the Can-Am X3 in the Turbo Class in a continuation of development of the new machine.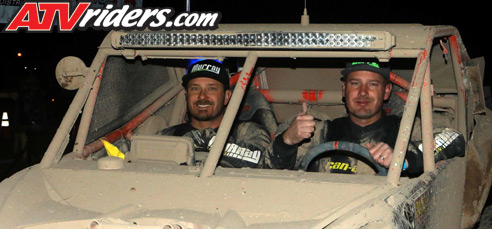 The Can-Am / ITP / LSR / Murray Racing team finished their 46th consecutive race with a 10th place finish at the Parker 250
The brothers were in the hunt for a podium finish until about three-quarters of the way into the event when they had one of several flat tires. In addition, a fuel delivery issue slowed their charge. Both took it in stride, knowing that the new Can-Am has acres of competitive advantages.
"Obviously, we must have some sort of issue since we had more flats today than we had all year last year," said Derek Murray. "Other than that, the Can-Am ran perfectly. The shocks and the suspension were perfect. It's part of racing: you have your good days and your bad days. We finished in the top 10 and we're looking to back up our win last year at the Mint.
"This was our 46th consecutive finish," added Murray. "That shows some serious consistency."
Derek Murray drove the entire race while his brother was tasked with keeping the car running. They are still developing the new X3 and, with any development program, there are going to be setbacks.
"We're always making little changes," explained Murray. "We made some minor changes and did some testing. The fuel delivery issues really held us back. We couldn't get full power. We didn't want to cook the engine, so we took it easy and stayed in the points. We knew there was going to be a lot of carnage. We took the lead at the beginning, but three-quarters of the way in, we had our first flat and it went downhill from there."
Jason Murray was pleased with their start, which showed the Can-Am X3's potential. He was happy to record another finish and stay in the points heading into the next race.
"Bad luck, I guess," said Jason Murray. "We finished the first race of the season and there was a lot of car count. This really set us up for the rest of the year. I was hoping to get into the driver's seat, but after having to change tires so much, I was kind of beat. My brother kept it to the finish. It is what it is. We'll be back for the Mint."
The Murrays will look to rebound as they head to the Mint 400 March 2-5 in the desert outside Las Vegas..
Murray Racing 2017 Sponsors:
Can-Am, ITP, Lonestar Racing, FOX, Yoshimura, Lazerstar, Torco, Beard Seats, K&N, Berts UTV, AMR Racing, Shoria, OMF, Rugged Radios, Streamline, Visual Impact, Pyrotech