Downey, CA (9/29/2017)
- Murray Racing's Jason Murray overcame teething problems in the new Can-Am Maverick X3 Max to finish 14th in the UTV Turbo class during the Silver State 150. The event was the fifth round of the Best in the Desert Series and was held in Caliente, NV.
This was the second time racing the new Maverick X3 Max, and though they experienced a belt issue and some other minor issues during the race, Murray Racing scored a finish and the car performed well.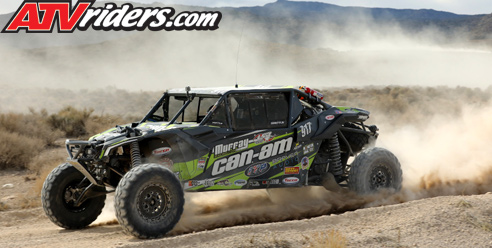 Can-Am / ITP / LSR / Murray Racing's Jason Murray finished 14th at the BITD Series while his brother Derek raced in the SCORE Series with events overlapping
"We're just having some new-car blues," said Murray. "Normally the Can-Am belts are super durable, and today we were in a flat pushing hard and the belt let go. Then we had flat tire and a broken front axle. From there it was just maintenance to get a finish."
Jason Murray and his brother Derek were key players in the development of the new race-ready X3 when it debuted last year. Jason Murray continued that role in developing the new four seater.
"Every year, we're putting new cars on the track, testing new products for Can-Am and trying to push the envelope," said Murray. "This is not just for us racers, but also for the consumers. What we do to these cars on the track in one day, most consumers wouldn't do in three months. So we'll go back to Can-Am and make this Can-Am X3 even better than it is today."
For the first time this year, Jason and his brother Derek didn't drive together. While Jason Murray was running the BITD race, Derek was racing a Can-Am in a SCORE race in Mexico. Jason Murray teamed with Michael Kendrick for the BITD event.
"You'd think SCORE and BITD could figure out that 90% of the people race in both series," quipped Jason Murray. "It made it difficult, but we're prepared for these things. We have two race cars, enough guys on the team, and enough parts. We split the teams up, Derek ran south and I ran up here"
Kendrick has co-driven with the Murrays in nearly every race this season. A key member of the Murray Racing team, he was also pleased to get a finish.
"We had a couple of issues at the beginning of the race in the dust," said Kendrick. "The belt problem put us back a little further than we wanted to be. Then we got a flat and go further back in the dust. This isn't where we wanted to finish, but we're still glad to be here and to finish."
The Murrays will be back in action, and back together, as the BITD heads to Tonopah, NV for the Tonopah 250 October 19-22.
Murray Racing 2017 Sponsors:
Can-Am, ITP, Lonestar Racing, FOX, Yoshimura, Lazerstar, Torco, Beard Seats, K&N, Berts UTV, AMR Racing, Shoria, OMF, Rugged Radios, Streamline, Visual Impact, Pyrotech