Tempe, AZ (1/12/2017) - Pro Motorsports' Matthew Hancock scored a second-place finish in the Best in the Desert Parker 250 Short Course UTV race. Hancock was driving a Polaris RZR Turbo in the UTV Production Turbo Class and is preparing a two-car effort for the 2017 WORCS Series.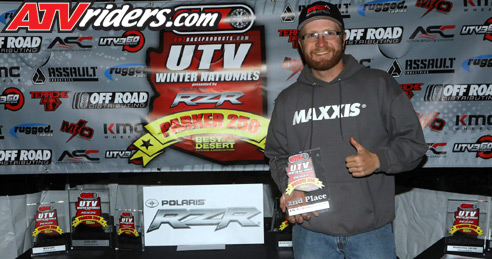 Maxxis' Matt Hancock kicked off the 2017 UTV racing sesaon with a 2nd Place finish in the Turbo UTV Short Course race at the BITD Parker 250
In typical Hancock style, he avoided carnage that took out a lot of cars on the first lap. Driving smart, Hancock made it up to second on the second lap and held onto the runner-up slot at the checkered flag.
"I got a sixth-place start and it turned out great," said Hancock. "I just tried to stay consistent and not hit anything. There were a lot of wrecks and problems around me while I worked my way up to the front. I started to run low on fuel at the end, so I had to pace myself. In fact, I'm glad it ended when it did because I don't think I could have made another lap on fuel.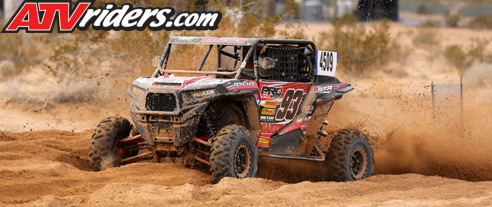 Sparks' Matt Hancock got off to a 6th place start in the land-rush style start, but he quickly charged his way into the second spot
"I wish I had a little more speed, but it's great to start off the year with no problems," added Hancock. "So we'll see how we can do in WORCS."
With the WORCS Series kicking off in two weeks, Hancock has his hands full. He's planning to run two cars in WORCS SXS competition this year in both the Pro Stock and Pro Turbo Classes.
"We were consistent all year, but a few bobbles at the end slowed me down," said Hancock. "So I want to go for the championships."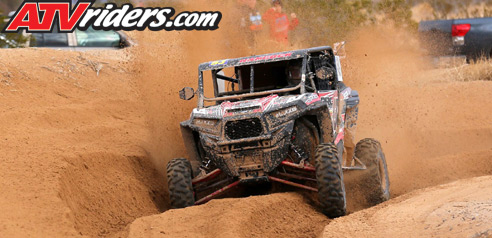 Matt Hancock is excited about teaming up with ELKA suspension for 2017
Hancock is excited to be back with Maxxis for 2017, which he considers the best tires on the market, and he is also going to join fellow WORCS veteran, Beau Baron, in running Elka Suspension on both of his machines this year. Both will work together to develop the competitive shocks.
"We did some testing with them and Elka is just the best suspension for a SXS," said Hancock. "I'm excited to be working with Beau Baron on development for Elka."
After graduating college, Hancock is also now working full time. No one would ever accuse him of having a lax work ethic. "I graduated from college in December and started work, so it's going to be a busy year," said Hancock. "I don't know any other way to be but to be busy."
Hancock will kick off his WORCS UTV Season at the SXS World Finals in Primm, NV, January 20-22
2017 Pro Motorsports Team Sponsors:
Maxxis Tires, Pro Motorsports, LKH Farming, Elka Suspension, Tireblocks, ROLL Design, Sparks Racing, FLY Racing, K&N Filters, Method Race Wheels, IMS Products, ATVRiders.com, JR Publications, Finish Line Signs, VisionX lights, RCV Axles, Fasst Co., Polaris Lubricants, Dragonfire Racing