Tempe, AZ (4/21/2017) - Pro Motorsports' Matt Hancock teamed up with Beau Baron to win the Pro ATV portion of the Best in the Desert Series race in Laughlin, NV. Hancock made a last-minute decision to return to ATV competition after a brief hiatus to prepare for the UTV World Championship events, held later in the day.
The pair rode one of Baron's Hondas he usually campaigns in the WORCS series. Hancock snagged the holeshot on the dead engine start, but fell to second before the first stop. Baron took over, making up a minute-plus gap to take the lead and win by over a minute.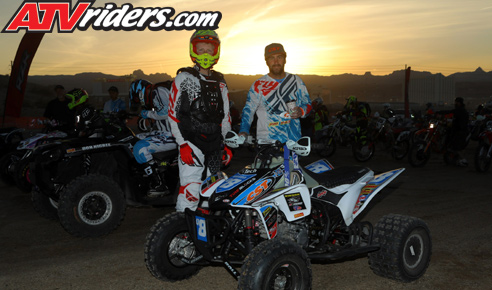 Matt Hancock teamed up with Beau Baron to take on the BITD UTV World Championship Pro Quad Race
"We thought it would it be a good decision to see the course in the morning and get some exercise in to keep our heads clear for the SXS race," said Baron. "Matt got off to a great start, got the holeshot and went back to second. We were about a minute behind when I got on the bike and we won by a minute. It was fun and it was a good day."
The race marked Baron's second BITD ATV start. Despite gearing issues, Baron put in hard work in the corners to get the victory.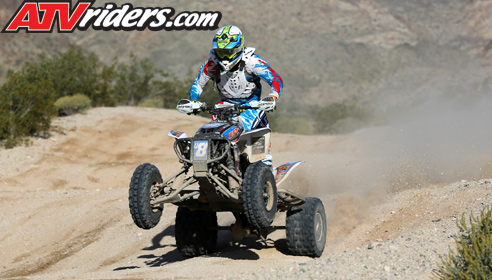 Sparks Racing's Beau Baron charged into the lead late in the race & held it to the checkered flag for the win
"I ran a BITD race four or five years ago and finished second," said Baron. "I did some gearing changes to get a little more top speed, but it still wasn't quite enough. I had to make it up in the corners; that's for sure. I was pumped."
Hancock got a last-minute invitation to race with Baron. Despite having not ridden in nearly six months, Hancock was quickly back up to speed.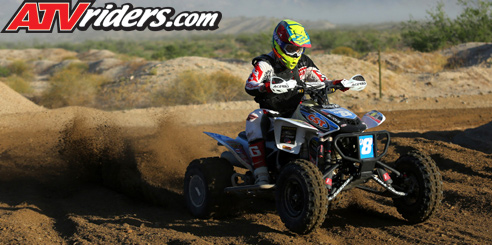 Maxxis' Matt Hancock started the race for the team
"I had only ridden a quad for about 20 minutes in the last six months so I was hoping it was going to be like riding a bike," said Hancock. "We got into a hole early on, but I kept a good gap. Then I gave the bike to Beau and it's amazing what he can do with an ATV. He just put it down, made up that minute and put another minute on the field. We didn't even have the right setup for a desert race and we were still able to rip with the other riders. It was a lot of fun and good practice for the SXS race."
Hancock previously raced here last year with his brother Jeff. The pair fell out of championship contention when engine trouble ended their day early.
"My brother and I lost the championship here last year when we lost a motor," said Hancock. "So it was nice to come back here and get some revenge. The course was fast and it was fun. We had some fun in the corners with our WORCS setup."
Hancock and Baron will be back in action as WORCS heads to Sand Hollow State Park in Utah for its next round April 21-23.
2017 Pro Motorsports Team Sponsors:
Maxxis Tires, Pro Motorsports, LKH Farming, Elka Suspension, Tireblocks, ROLL Design, Sparks Racing, FLY Racing, K&N Filters, Method Race Wheels, IMS Products, ATVRiders.com, JR Publications, Finish Line Signs, VisionX lights, RCV Axles, Fasst Co., Polaris Lubricants, Dragonfire Racing