Tempe, AZ (4/21/2017) - Pro Motorsports' Matthew Hancock finished fifth in the Turbo class short course race during the UTV World Championship in Laughlin, NV. Hancock overcame serious visibility problems to net the top five in round three of the Best in the Desert Series.
With a record of over 300 entries in UTV classes, the series elected to run the short course race on the 16-mile loop here. With just three laps, Hancock had his work cut out for him on the difficult and dusty course.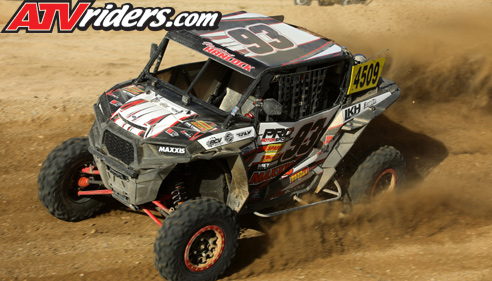 Maxxis' Matt Hancock rounded out the top five at the BITD UTVWC
With many UTVs crashing in the dusty conditions, Hancock showed veteran's experience during his run. Keeping a methodical pace, Hancock avoided trouble in front and behind him and came away with the top five.
"I had trouble at the start and the dust was just horrific," said Hancock. "People were going everywhere and I was just waiting to get rear ended. Luckily I didn't, I figured out where the track was and started running some people down. I just tried to drive smart and knew I had to finish."
Just finishing the race was a feat. Many drivers fell out early due to mechanical problems and crashes. In typical Hancock style, he set out to finish the race and he did just that. It helped to have one of the best-prepared cars in the field.
"My Elka Shocks were working perfectly out there," said Hancock. "Doug Roll has been working with them and they were perfect in the proving ground. Maxxis Tires helped me really rip today. I hit a lot of stuff today and Tireblocks kept me going. I should have ripped a bunch of stuff off this car, but Pro Motorsports builds a solid car and it put up with some abuse today."
Hancock will return to the WORCS Series next weekend as it heads to Sand Hollow State Park in Utah. That race is scheduled for April 21-23.
2017 Pro Motorsports Team Sponsors:
Maxxis Tires, Pro Motorsports, LKH Farming, Elka Suspension, Tireblocks, ROLL Design, Sparks Racing, FLY Racing, K&N Filters, Method Race Wheels, IMS Products, ATVRiders.com, JR Publications, Finish Line Signs, VisionX lights, RCV Axles, Fasst Co., Polaris Lubricants, Dragonfire Racing